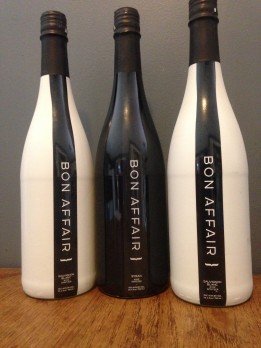 I spoke with Jayla Siciliano to get a Bon Affair preview before she introduces the world to her new line of wine spritzers in Shark Tank episode 525 this Friday. Jayla graciously sent along two bottles of her Bon Affair Sauvignon Blanc and one bottle of the Syrah (pictured on the left). I cracked open the Sauvignon Blanc – it's reminiscent of a Sauvignon Blanc flavored sparkling wine – not at all like wine coolers and spritzers I've tasted in the past. It was good!
Jayla's originally from New Hampshire. She went to southern California to go to college and returned to the east coast to live in Burlington, VT after college. It only took three years for her to get sick of the snow and head back out to southern California!
Jayla's motivations for starting a wine spritzer line came from her role as a product specialist. "I was working for Diesel, then Burton snowboards and every event at both companies seemed to revolve around alcohol," she explained. "I lead an active and healthy lifestyle, but I like to have a drink too. I wanted something 'lighter,' so I started making wine spritzers. I realized there were no good wine spritzers out there; there was a gap in the market. After 11 years in the corporate world, I was super burnt out, so I decided to quit my job. I always wanted to start my own thing, so I decided to start bottling wine spritzers. That was five years ago."
Bon Affair Preview: Obstacles to Getting in Wine Market
"The biggest obstacle with any alcohol product is licensing and distribution," she continued. "You need a license in every state and, even if you strike a deal with a distributor, you need sales reps on the ground to sample and sell the product. Right now, I am the only employee. I have a few contractors and some other investors. When I first started out, I quickly ran out of savings and maxed out my credit cards, plus I was starting the business while going back to school for my MBA."
"I raised $40K from friends and family to do a sample run. The samples were used that to meet potential accounts and pitch investors. The packaging strategy was to target women without alienating men. Women are the target market, but I wanted something sleek and sophisticated – not cutesy pink bow stuff. I didn't want guys to be embarassed buying it. The name is a play on the vice of the wine meeting the virtue of lighter ingredients and added electrolytes. We may play off other angles on the name in future marketing."
"I eventually met Terry Anderson and he committed to invest $100K if I could raise another $400K. I was able to raise the money, then disaster struck. When we went to launch, we lost all our first production run. The bottle caps were leaking!"
"A close advisor suggested I apply to Shark Tank, so I did. I sent in an email and video last year and heard back in four months; we taped last September [2013]. Once I heard I was going to tape Shark Tank, I went back to my investors and they agreed to put in more money if I got a new bottler and went forward with Shark Tank. They supported the decision to go on the show."
Bon Affair in the Tank
"The paperwork was a lot of work. I didn't even realize they'd removed the royalty clause for the producers, but I was prepared to move on with it in place. When I found out it wasn't in there anymore, it was like a bonus. I thought it was worth it for publicity."
"I'd watched all of the first season of Shark Tank, but just here and there after that – I thought it was hokey. It got more popular and I figured I'd go with it. In the months before I taped, I woke up at 4 AM every morning and watched every episode. I took notes and listed every question the Sharks asked so I'd be prepared."
"The thing I wanted to focus on was getting some sales. I knew if I went into the Shark Tank with no sales, they'd eat me alive. We 'officially' launched about 5 weeks prior to taping. I was only in five Whole Foods stores then. Now we're in 30 Whole Foods, Albertsons, and Nordstroms in the southern California market. My plan is to grow the California market and move into the Southwest. Again, licensing is the biggest obstacle to quick growth."
The ABC press release for episode 525 says: "self-professed wine connoisseur Kevin O'Leary gives advice to a lady from Solano Beach, CA on her lighter, healthier alternative to a full-bodied wine." I asked Jayla what the advice was (knowing full well she wouldn't tell me).
"Mr. Wonderful did give me good advice. I'm not ready to take it, but it was good."
Getting Ready for the Show
"We've been sitting on this secret for 9 months, and now it's show time. We built up plenty of inventory, and got licensed to ship to 43 states, so we could still have a national reach. We also spent a lot of time prepping the website and went to an automated entry system to be compliant with shipping alcohol."
I'm so incredibly excited and insanely grateful for the opportunity. It was such a long process and I hope it works out, but we'll see how the edit goes!"
Jayla had this advice for other entrepreneurs: "Jump in and figure it out as you go along!  You also need patience and persistence -nothing happens overnight. Keep a level head through all of it and remember, mistakes are part of business."
I had one more question for Jayla. She answers it on The Hot Dog Truck.