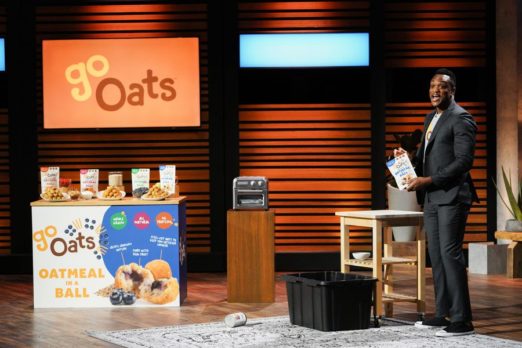 Nahum Jeannot hopes the Shark take a bite of Go Oats, his oatmeal on the go oatmeal balls, in Shark Tank episode 1202. Nearly every day of his child hood, Nahum had a bowl of oatmeal for breakfast. He's a foodie at heart: he graduated from The Restaurant School at Walnut Hill College in Philadelphia in 2011 and he served in a variety of chef positions.
In 2015, he made his first oatmeal balls while working as a chef at a Hyatt Regency hotel. He wanted a fun finger breakfast food and he used his lifelong favorite breakfast food as inspiration. He knew he was on to something special and spent the next few years perfecting the product in a commercial kitchen. There are four flavors:  blueberry, maple brown sugar, cran-walnut and cinnamon. He sells GoOats wholesale to over 60 Whole Foods Markets in the Midwest and mid-east coast. He also sells in Heinen's markets and on Amazon.
Jeannot recently won SCORE DC's 2020 Perfect Product Pitch. He was mentored by the organization for two years and credits the experience to successfully growing his business. People love the product and there are many rave reviews about them. Now, Jeannot wants a Sharks help so he can take Go Oats national.
Company Information
Posts about Go Oats on Shark Tank Blog
Go Oats Shark Tank Recap
Nahum enters the Shark Tank seeking $150,000 for 10% of his business. He tells his story and gives his pitch. When the Sharks taste the oats, they like them. 2017 sales were just $13,000. In 2018, they were $57,000. By 2019, he was flat at $54-$57,000. He sells into stores for $2.66, they cost $1.35 to make and they retail for $4.99. Mark says that's not enough.
Barbara says she'd like to make an offer. Barbara offers $150,000 for 25%. She sells she'll help him get into the big box stores. Nahum wants to hear other offers. Barbara says she'll hear a counter offer. He asks if she'll pull another Shark in and she says "no" in a long way. Nahum counters at 15% and Barbara says she'll compromise at 20%. They do the deal.
Go Oats Shark Tank Update
The Shark Tank Blog constantly provides updates and follow-ups about entrepreneurs who have appeared on the Shark Tank TV show. The deal with Barbara never closed. As of July, 2021, the products are in Costco, Whole Foods, Dawson's, Gelson's, Sprouts and Heinan's nationwide. The website says they're suspending online sales for the summer and will return after Labor Day, 2021. They did re-start selling after Labor Day and introduced a new strawberry flavor. As of November, 2021, annual revenue is up to $1.2 million. By August, 2022, revenue is $2 million annually.