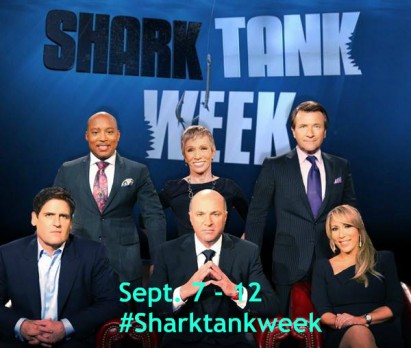 Shark Tank Week was such a big hit last year, ABC is airing Shark Tank Week 2014 as a teaser to the Shark Tank season six premier on Friday, September 26. Shark Tank Week, airing September 6-12,  features favorite episodes from all six Sharks from Season five. Each Shark picks an episode they made a BIG deal on in season 5.
Shark Tank Week 2014 Episodes
Each "full-time" Shark picks an episode from season 5. All Shark Tank Week 2014 episodes air at 10 PM EST on ABC. Their picks follow:
Barbara Corcoran's pick:
Barbara's choice, Episode 511, airs SUNDAY, SEPTEMBER 7. She made a deal with Rick and Melissa Hinnant of Grace and Lace. Much to the delight of the Hinnants and Barbara, they sold a million dollars in socks five days after airing!
Mark Cuban's pick:
Mark's pick, airing MONDAY, SEPTEMBER 8, is Episode 522. Mark made a deal with Bradford Scudder and Rob Dickens when he invested in Rugged Maniac, a business that puts on extreme 5K races with obstacles and beer. Cuban says  "Rugged Races embodies the future of entertainment."
Lori Greiner's pick:
Lori's pick, Episode 509, airs TUESDAY, SEPTEMBER 9. Lori made a HUGE deal with Spencer Quinn and Eric Child for FiberFix, the all in one, SUPER repair tape. FiberFix expanded exponentially after doing a deal with Lori and Shark Tank Blog did and update on FiberFix.
Daymond John's pick:
Daymond chose Episode 513, which airs WEDNESDAY, SEPTEMBER 10. Daymond made a deal with Al "Bubba" Baker and his Bubba's Boneless Ribs. Baker devised and patented a way to remove ribs from the bone and both he and Daymond have been feasting on profits since doing a deal.
Robert Herjavec's pick:
Robert's pick is episode 512 which airs THURSDAY, SEPTEMBER 11. Robert made a deal with SEO sales pros  Evan Mendelsohn and Nicklaus Morton for a piece of Tipsy Elves, their online tacky Christmas sweater business. Robert liked Evan and Nick – and their sales projections!
Kevin O'leary's pick:
Mr. Wonderful chose episode 515 which airs FRIDAY, SEPTEMBER 12. O'Leary and Cuban made a deal with Julie and Brian Whiteman for Groovebook. Sales tripled in just 5 days following the show.
Shark Tank Week 2014 promises to be entertaining, and it should provide a nice lead-in to the season 6 opener!