Shark Tank Products
To make things a bit easier, we have organized all Shark Tank Products by season, episode, and category. Scroll down for alphabetical product list.

Shark Tank Products By Season As Seen On Shark Tank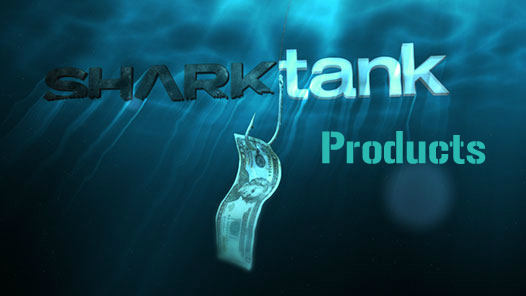 Fans often ask us where to get Shark Tank Products from their favorite entrepreneurs who made a pitch on the show. That's why we built the complete list of businesses appearing on Shark Tank. Your purchase helps these entrepreneurs live their dream, and that makes this section so valuable.
Shark Tank Products may not be available right now. If they do become available,  our team will list the new Shark Tank Products and then notify you in our newsletter.
Availability of Shark Tank Products depends on a number of factors. If you see an item you want, make sure you move fast before it's gone. You never know when the entrepreneur will be featured on a rerun resulting in even greater sales than the first run episode.
The holidays are coming up, making Shark Tank Products the perfect gift for fans of the show. They talked about their favorite entrepreneur for weeks, and now you can surprise them with the perfect gift.
Ash and Anvil
Benjilock
Bravo
Brazyn Life
Brilliant Pad
Cut Buddy
DNA Simple
Delighted by Dessert Hummus
Drainwig
DreamPad
Enso Rings
Father Figure
FidgetLand
GloveStix
Grypmat
HoopMaps
Human Bobber
IceShaker
Jacksons Honest
Kwik Hang
Locker Board
MirMir
No Mo-Stache
Novel Effect
ProntoBev
QBall
Reely Hooked Fish Company
Robin
Sierra Madre Research
Simple Habit
Slumberkins
SmartGurlz
Snarky Tea
SnoofyBee
SoleMender
Tanglepets
The Seventy2
Third Wave Water
Trippie
WYP Aviation
Season 8 Shark Tank Products
Angels and Tomboys
Apollo Peak
Atlantic Candy Company
Barbell Apparel
Basic Outfitters
BeSomebody
Biem
BitsBox
Blendtique Wine Company
Booty Queen Apparel
Bridal Buddy
Chi Lantro
Chirps
Cropsticks
Dart Drones
dBest Products
DigiWrap
Doc Spartan
Eco Flower
EDN Wallgarden
Elephant Pants
Energy Bits
Firefighter Turnout Bags
Fizzics
Flag
Guard Llama
Guardian Bikes
GetAway
GoodHangups
Goverre
Grease Bags
Hand Out Gloves
Hotels by Day
Ice Age Meals
Inboard Technology
ISlide
Jack's Stands
Laid Brand
Line Cutterz
Little Nomad
Loctote
Lulu Bang
Mama's Milkbox
MealEnders
Milk Snob
Naturally Perfect
NicePipes Apparel
Night Runner 270
Nomiku
NootroBox
Ora Organic
Parker Maple
Peaceful Fruits
Peoples Design – Scooping Bowl
PDX Pet Designs
Pet Plate
PinBlock
PolyGlide
Pop Up Play
Potato Parcel
PupBox
Raising Wild
RareForm
ReThink
Rinse Kit
Rocketbook
Rumi Spice
SafeCatch
SafeGrabs
SandCloud
Sandilake Clothing
Sealed by Santa
See Rescue Streamer
Seed Sheet
Silidog
Solemates
Spoonful of Comfort
Sunscreenr
Tactibite Fish Call
Tekdry
The Cookie Kahuna
The Kooler
The Lapel Project
The Sleep Styler
The Style Club
Thompson Tee
Toor
ToyMail
Tranquilo
Under the Weather
UnPack
Validated
Vibes
Victory Coffees
Wallet Buckle
Wine and Design
Season 7 Shark Tank Products
2400 Expert
ABS Protein Pancakes
Acton Rocket Skates
AFreSHeet
BearTek
BeardHead
Beard King
Bee Free Honee
Beebo
Beer Blizzard
Beloved Shirts
BetterBack
Brazi Bites
Brellabox
BrightWheel
Camp No Counselors
Clean Cube
Clean Sleep
CO.Alition
Combat Flip Flops
Controlled Chaos
Coolbox
CreaProducts
Custard Stand Food Products
Dollop Gourmet
Drip Drop
Dude Wipes
Extreme Sandbox
Extreme Vehicle Protection
ezpz
EZ Pee Z
FashionTap
Felt
Fire Avert
Fixed
Float Baby
Foot Cardigan
Frends
Glace Cryotherapy
Gladiator Lacrosse
GeekMyTree
Glow Recipe
Grip Clean
Hatch Baby
HotShot
Hungry Harvest
IcyBreeze
IllumiBowl
InchBug
Innovation Pet, Inc
Insta-Fire
Jarret and Raja Productions
KidRunner
Leaux Racing Trikes
Linka
Loliware
Lovepop
Major Mom
McClary Brothers Drinking Vinegars
Mikki Bey Eyelash Extensions
Milk and Brookies
Mobcraft Beer
MTailor
My Fruity Faces
National Association of Bubble Soccer
Nerdwax
NOHBO
NoPhone
ODANG Hummus
Pavlok
Pete and Pedro Bueno Hair
Petnostics
PiperWai
PMS Bites
Polar Pro
PopSlate
PrideBites
PRX Performance
R Riveter
Rags to Raches
Rent Like a Champion
Saavy Naturals
Sarah Oliver Handbags
SheFit
SignalVault
Simply Fit Board
Slyde Handboards
SmartPlate
SockTabs
Splikity
Spooner Boards
Sprëtz
Stem Center
Switch Witch
SworkIt
Table 87 Coal Oven Pizza
Teaspressa
The Good Promise
The Skinny Mirror
Three Jerks Beef Jerky
Total Tie Keep
Trobo
Trunkster
TutuBlue
Two Guys Bowtie Company
Umano
UnShrinkIt
Valpark Mobile
Vengo
Village Scholarships
VPCABS
Windcatcher
Wink Frozen Desserts
Wondercide
XCraft – X PlusOne
Yourself Expression
Season Six Shark Tank Products
Abingdon Company
Amber
Aqua Vault
Balm Chicky Balm Balm
Bantam Bagels
Beardbrand
BeatBox Beverages
Bedjet
BedRyder
Bee Sweet Lemonade
Bee Thinking
Bello Verde
Beneath the Ink
Beverage Boy
Biaggi
Bombas
BoobyPack
Bottle Breacher
Bottle Bright
Brand Yourself
Buck Mason
Budsies
Caddy Girls
Coco Jack
Coffee Meets Bagel
Doorman
Drain Strain
Drum Pants
Earth Log
Emazing Lights
Emergensee
EveDrop
evREwares (Sticky Tie)
Floating Mug Company
Forus Athletics
Frameri
Frill Clothing
Fresh Patch
Fun Bites
Fun Cakes
Gameday Couture
Gato Cafe
Gold Rush Nugget Bucket
Greenbox
Hammer and Nails
Heart Pup
Heidi Ho
Himalayan Dog Chew
Home T
Honey Fund
Hoppy Paws
iCPooch
Jungle Jumparoo
Keen Home
Kitchen Safe
Kronos Putters
Lip Bar
Lumi
LuminAID
Lumio
Magic Cook
Man Pack
Melni Connectors
Mensch on a Bench
Myself Belts
Napwell
Naja
NeatCheeks
Ninja Cards
Noene
Off the Cob Tortilla Chips
The Paleo Diet Foods
Paper Box Pilots
PhoneSoap
Pipcorn
PittMoss
Priority 1 Canine
PullyPalz
Q Flex
Red Dress Boutique
Reviver
Roominate
Scholly
Scratch and Grain Baking Company
Shark Wheel
SingTrix
Skinny Shirt
Sleeping Baby
Snag a Stool
Soap Sox
Spikeball
Squatty Potty
Sseko Designs
Storm Stoppers
Sunscreen Mist
SunStaches
SWAG Essentials
Sway Motorsports
SynDaver Labs
Taaluma Totes
Table Jack
The Natural Grip
The Oilerie
Titin
TurboPUP
Twin Z Pillow
TycoonRE
Vestpakz
Victoria's Kitchen
Wedding Wagon
World Record Striper Company
You Kick Ass
Zero Pollution Motors
ZinePak
Zipz
Zoom Interiors
Season Five Shark Tank Products
180 Cup
Alaska Glacial Mud Company
Angel Lift
Baker's Edge
Balloon Distractions
Bambooee
BareEASE
Belly Buds
Better Life
Bon Affair
BooBoo Goo
Bounce Boot Camp
Breathometer
Bubba Q Boneless Baby Back Ribs
Buffer Bit
Buzzy
BZBox
Cashmere Hair
Cerebral Success
Chapul
Cheek'd
Chocomize
Cinnaholic
Concealed Carry Academy
Cow Wow
Crio Bru
Cycloramic
DDP Yoga
Define Bottle
DoorBot
Elephant Chat
Eyebloc
Fairytale Wishes
FiberFix
FitDeck
Fohawx
Foot Fairy
Fort Magic
Freshly Picked
Fun Time Express
Garage Door Lock
Grace and Lace
GrooveBook
Hamboards
HangEase
Hanukkah Tree Topper
Happy Feet
Henry's Humdingers
Hold Your Haunches
Ilumni
Invisiplug
IReTron
Kane and Couture
Kodiak Cakes
Kookn Kap
Kymera Body Board
LifeCaps
Litenetics
Lockerbones
Lord Nut Levington
Lynnae's Gourmet Pickles
Magic Moments
Man Medals
Mango Mango
Moberi
MonkeyLectric
Monkey Mat
Morninghead
Mo's Bows
My Freeloader
NexerSys
Oru Kayak
PackBack Books
Paint Brush Cover
Paparazzi Proposals
Pet Paint
Plated
Postcard on the Run
Power Pot
PurseCase
Quickstop Fire Sprinkler Tools
Rapid Ramen
Rent a Goat
RoloDoc
Rufflebutts & Ruggedbutts
Rugged Maniac
Scan
Schulzies Bread Pudding
ScreenMend
Slawsa
Southern Culture Foods
SpiritHoods
Squeaky Knees
Sunday Night Slow Jams
Surprise Ride
Susty Party
Sweet Ballz
SwimZip
Taylor Robinson Music
Ten Thirty One Productions
The Bouqs Company
The Cookie Dough Cafe
The Paint Brush Cover
Tie-Not
Tipsy Elves
Total Merchant Resources
Tree T Pee
U-Lace
Veggie Mama
Velocity Signs
Virtuix Omni
Wall Rx
Wine Doctor
Yubo
Zoobean
Season Four Shark Tank Products
Addison's Wonderland – Little Girls Bedroom Accessories
Alpha M Style System – Men's Style Guide
ArKeg – Video Game/Beer Tap
Baby Loves Disco – Mobile Family Disco Parties
Babys Bad Ass Burgers – Burger Babes Food Truck
Back 9 Dips – Buffalo Chicken Dips
BagBowl – Collapsible Bowl
Bev Buckle – Beer Holding Belt Buckle
Bibbitec – Hi-Tech Bib
Black Magic Tattoo Removal – Home Laser Tatto Removal Device
Body Walking Institute – Body Massage
BuggyBeds – Bed Bug Early Detection System
CateAPP – The Cheater's App
Cell Helmet – Cell Phone Case with Damage Guarantee
Coatchex – Automated Coat Check System
Coffee Joulies – Hot Beverage Thermal Regulator
CordaRoy's – Bean Bag Chair/Bed
Cool Wraps – Shrink Wrap Gift Bags
Cork's Away Wine Adventures – Wine themed sailboat cruises
Cool Wazoo – 5 in 1 Baby Mat
Cousins Lobster Truck – Mobile Food Truck
Cozy Bug – Pillowcase Dresses
Cuddletunes – MP3 Teddy Bear
Drive Suits – Transformer Costumes
Drop Stop – Carmuda Triangle Rscue
Dura Tent – Table Top Food Tent
Echo Valley Meats – Gourmet Meat
Eco Nuts – Organic Soap Nuts
eCreamery – Custom Ice Cream
Fat Ass Fudge – Organic Fudge
Fishing Ammo – Shotgun Shell Bobbers
Freaker – Knit Beverage Holders
FuzziBunz – Cloth Diapers
Geek Chic – Custom Gaming Furniture
Gobie H2O – Eco Water Bottles
Gotta Have S'More – S'more S'Muffins
Green Garmento – Environmentally Friendly Dry Cleaning Bag
Grinds Coffee Pouches – Chewing Tobacco Substitute
Hip Chix – Premium Jeans
Hoodie Pillow– Hooded Sweatshirt Pillowcase
Hot Tot – Kids Hair Care Products
How Do You Roll – Custom Sushi Restaurant
Ice Chips – Xylitol Candy
Jeska Shoe Company – Shoes with Interchangeable Heels
Jones Scones – Creamy Scones
Kazam – Kids Bike with no Pedals
Liddup – Cooler with LED Lighting
Lifter Hamper – Clothes Lifting Hamper
Liz Lovely Cookies – Gluten Free Organic Cookies
LugLess – Luggage Pick Up Service
Lose 12 Inches – Exercise Program
Marz Sprays – Vitamin Oral Sprays
Mee-Ma's Gumbo Brick – Ready Made Frozen Gumbo
Mission Belt – Adjustable Belt
Misto Box – Coffee of the Month Club
Muddy Water Camo – Photographic Camouflage
My Cold Snap- Beverage Cooler
Nearly Newlywed – Wedding Dress rental
No Fly Cone – Unique Fly Trap
nPower Peg – Personal Electronic Device Charger
Nuts n More
PartiePoche – Cell Phone leg holder
PC Classes Online – Online computer instruction
PlateTopper – Food Storage
Pretty Padded Room – Online Therapy
Proof Eyewear – Wood Sunglasses
Psi Bands – Acupressure Nausea Relief
PostureNOW – Posture Correction Device
PRO-NRG – Protein Infused Energy Drink
Revestor – Real Estate smart phone app
Rockbands – Fashion Wrist Accessories
Root Suits – Spandex Body Suits
RuckPack – energy drink
Ryan's Barkery – Gourmet Dog Treats
Scrub Daddy – High Tech Sponge
Shemie – Modern Slips For Modern Women
Simple Sugars – All Natural Skin Care
Smart Bedding
SmartWheel – Driver Awareness Tool
Solowheel – Electric Powered Unicycle
SoundBender – Ipad Amplifier
Squirrel Boss – Squirrel Zapper Bird Feeder
StellaValle – Fashion Jewelry
SubZero Ice Cream – Ice Cream Franchise
Surfset – Simulated Surfing Equipment
Teddy Needs A Bath – Plush Toy Cleaning system
The Bear and the Rat Cool Treats for Dogs – Frozen Yogurt
The Coop – Kids Party Place
The Game Face Company – Temporary Face Tattoos
The Living Christmas Company – Live Christmas Tree rental
The Pink Shutter – Mobile Photobooths
The Spatty – Mini Spatula
Three Day Rule – Exclusive Dating Website
Tie Try – The Netflix of Ties
Tom and Chee – Gourmet Grilled Cheese Franchise
Track Days – Motorcycle Racing Movie
Traditional Fisheries – Lionfish Remediation
Urbio – Vertical Urban Garden System
VerbalizeIt – Translation App
Vermont Butcher Block and Board Company – Gifts made from Vermont Wood
Wicked Good Cupcakes – Cupcakes in a Jar
Wired Waffles – Caffeine Infused Waffles
Xeroshoes – Hi-Tech Huarache Sandals
Zomm – Wireless Cell Phone Leash
Season Three Shark Tank Products
Chord Buddy
Liquid Money
Tail Lightz
You Smell Soap
Five-Minute Furniture
The Painted Pretzel
Esso Watches
ReadeREST
The Last Lid
Ledge Pillow
Talbott Teas
M3 Girl Designs
The Swilt
Show No
Puppy Cake
Wine Balloon
The Original Profender
Nardo's Natural
Rent-a-Grandma
Litter
The Ave
Bark'em's To Go
Brewer's Cow Ice Cream
GoGo Gear
I Want to Draw a Cat for You
Salespreneur
His Vegas Magic Show
Invis-A-Rack
Blondie's Cookies
Viewsport
The Sullivan Generator
Copa Di Vino
Tower Paddle Boards
Instant Lifts
Vinamor
Miso Media
Clean Bottle
My Wonderful Life
Business Ghost
EZ VIP
Kisstixx
The Smart Baker
The Heat Helper
TEC – ScottEvest
Cougar Energy
Remyxx
Nitroforce Industries
UniKey Technologies
AirBedz
Skyride
Boot Illusions
Villy Custom
Nail Pak
Debbie Brooks Handbags
Trimi Tanks
Lollacup
Wild Squirrel Nut Butter
Cab 20
Mix Bikini
Billy Blanks Jr.'s Dance With Me
Season Two Shark Tank Products
Broccoli Wad
Caddyswag
Daisy Cakes
First Defense Nasal Screens
Ride-on Carry-on
Uncle Zip's Beef Jerky
Hill Billy Brand
Hot Mama Gowns
Toygaroo
Wake N' Bacon
Vurtego Pogo Sticks
SweepEasy
Wurkin Stiffs
Tippi Toes
Original Shrimp Burger
Copa Di Vino
Mod Mom Furniture
Fitness Stride
Flipoutz
Pure Ayre
Carsik Bib
Hydromax
Ecomowers
Games2U
Orig Audio
Original Man Candle
Original Runner Company
HyConn LLC.
CitiKitty
Samson Martin
Aldo Orta Jewelry
One Sole
Season One Shark Tank Products
A Perfect Pear
Attached Noted
AVA The Elephant
The Bobble Place
Body Jac – Exercise equipment
Boogie Box Fitness
Captain Ice Cream
Caffeindicator
Chef In Black, Inc.
Chill Soda
Chopstick Art
Classroom Jams
Coffee Brand Gifts
Coverplay
Cornucopia Express
Crooked Jaw
Element Bars
Face Blok
The Factionist
50 State Capitals Deck
The Fizz
Fridge Fronts
The Fun house Project
Gayla Bentley Fashion
Gift Card Rescue
Good Grief Celebrations
Graffiti Removal Services
Granola Gourmet
Grease Monkey Wipes
Grill Charms
Hells Bells Helmets
Ink Flip
Ionic Ear
Jump Forward
Kalyx Technologies
LegalGrind
LifeBelt
Lightfilm
LipStix ReMix
Llama Brew
Mr. Poncho
Mr. Tod's Pie Factory
My Therapy Journal
New Era Brands
Notehall
Nubrella
Pillars of Slippers
The Podillow
Pork Barrel BBQ Sauce
Qubits Toys
Romp N' Roll
SENDaBALL
Souls Calling, Inc.
Soy-Yer-Dough
Thin Gloss
Throx
Treasure Chest Pets
TurboBaster
The Twister
Underease Underwear
The URO Club
Virtusphere
Voyage Air Guitar
Washed Up Hollywood
The URO Club
Wee Can Shop
WiSpots
The Sharks are wealthy business people who fund businesses each week. Entrepreneurs pitch the Sharks hoping to receive an investment to help grow or start their business. Sometimes the Sharks invest and make entrepreneur's dreams come true, sometimes they just go "out."
Whether businesses get funded or not, most benefit from the massive exposure they get from appearing on the show. Many sell their products online. Lots of fortunes have been made from entrepreneurs who have leveraged their appearance into massive product sales.
Until now, there hasn't been a single source of Shark Tank products in one place. Now you can use the products page to shop online for all your favorites!