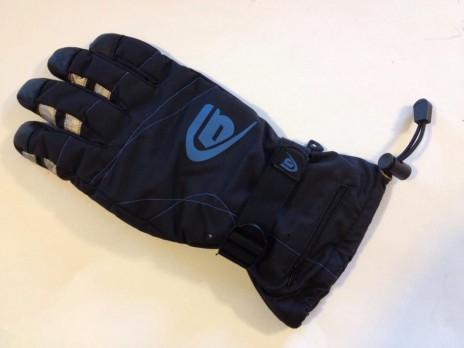 Willie Blount and Tarik Rodgers bring BearTek, their blue tooth gloves that control smart phones and GoPro Cameras, to the Shark Tank military special – episode 719. Willie is an avid motorcyclist who wanted a safe way to scroll through the music on his iPhone while riding and Tarik wanted a way to use his phone and camera while skiing without taking his gloves off.
Together, they created Bear Tek gloves, special gloves for skiing or biking with blue tooth sensors in the left glove hand. By tapping the thumb and one of the fingers together, different controls for devices get activated. All this is done without removing the gloves, making for a safer, warmer experience. The gloves pair with devices via blue tooth modules that sit in a pocket on the wrist. There's a module for smart phones and a separate one for cameras.
The gloves range in price from $79-$250 depending on the style and which modules are included. The guys tried getting the project off the ground with Kickstarter back in 2012, but their efforts were unsuccessful. They eventually got the product off the ground with $90,000 and a partnership with the Maryland Center for Entrepreneurship. The products are readily available on Amazon and they are the darling of the tech/geek/sporting world.
Willie and Tarik likely want a Shark to help them with manufacturing and distribution. Will a Shark put on the gloves and invest?
BearTek Shark Tank Recap
Willie and Tarik enter seeking $500K for 5% of their business. The guys love the outdoors, but couldn't listen to music while riding bikes or skiing. They explain BearTek transforms a glove into a smartphone at their finger tips. They demo the glove while the Sharks raise their hands and mimic the motion. Their module can control any device from their gloves. They say they aren't just a product, but a tech company and ask "who's ready to be hugged by BearTek?"
As they hand out samples, they show how they work. There are 6 touch points on the gloves, each creates a different command; the thumb is the main control and the module goes in a pocket behind the glove. Their business today is selling gloves and modules; they launched the gloves to prove the concept of the modules, since they eventually want to be in the module business.
They sold 1500 units for $200K profit in 15 months. Tarik reveals he put in $500K to start the business. They believe the company is worth $10 million because military companies want to control stuff with gloves. Robert says for a $10 million valuation, they need to go beyond just gloves. Daymond tells the guys "it's not working."
After a break, Daymond says he can't see why they are worth $10 million. The guys say they could go to $32 million. Kevin says he's seen helmets with voice activation and Tarik says voice activation has mistakes, gloves don't make mistakes. Kevin thinks the market may have passed them by, he's out. Mark says the risk/reward is not there, he's out. Daymond doesn't like the valuation, he's out. Robert wants to hear about different products other than gloves;  he doesn't like the valuation and doesn't want to be in the glove business for $10 million, he's out. Lori likes them, she thinks they're smart and thinks they have something, but they are still figuring things out; she's out. Kevin says their valuation killed them.
RESULT: NO DEAL
BearTek Shark Tank Update
The Shark Tank Blog constantly provides updates and follow-ups about entrepreneurs who have appeared on the Shark Tank TV show. Without an investment from the Sharks, Beartek started an IndieGoGo campaign which raised $60K. Despite the cash infusion, Beartek refunded all backer funds and released this statement:
It's been a long road for BearTek and we reached $60,000 in our campaign which was well above our goal!  Most of that was within the first 5 days of the campaign.  However, additional challenges have come up where we have to take BearTek into hibernation for a little while until we find the right partners/investors to help take this to the next level and beyond.


We want to be as transparent with this campaign, and true to our last 4 years of delivering a great product and making deliriously happy customers. Stay tuned as you should not be surprised to see BearTek resurface shortly stronger than ever,

In the meantime, we have processed refunds for all the contributions on the campaign so no one will be charged until we are sure we can deliver as promised.
In May, 2019, the company website went dark. As of November, 2021, the gloves continue to be sold on Amazon.
Posts About BearTek on Shark Tank Blog
BearTek Company Information
Video