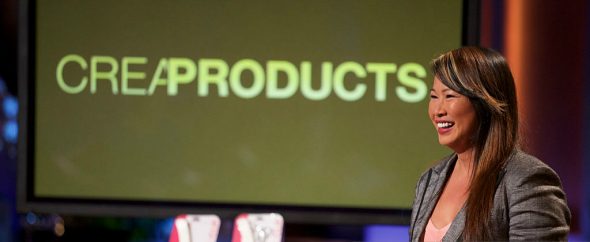 Author, speaker, and entrepreneur Mai Lieu introduces the Sharks to her internationally successful company, CreaProducts, in Shark Tank episode 729. Lieu's mainstay product and invention is the CreaClip, a clip that allows people to give themselves a hair salon quality, layered hair cut in the comfort of their own home. She uses a clip system that evenly combs and distributes the hair with a lock that secures it in place while you cut.
Lieu has other products, too. Her CreaNails nail stencils fit over fingers to prevent unwanted nail polish from getting all over your fingers. CreaLash, which she successfully funded on KickStarter back in 2014, is a small shield that keeps mascara from getting onto unwanted areas of the face. She also sells Risque, a line of " lingerie for your feet" that are slip on foot stockings with a lacy, sexy appearance.
Lieu has taken the beauty accessories world by storm with her products and has international distribution. Her products are available on her website and on Amazon in dozens of countries. She likely wants a Shark to help take her business to the next level. Will a Shark create a deal for this business?
CreaProducts Shark Tank Recap
Mai comes to the Shark Tank offering 10% in return for $200,000. She demonstrates the CreaClips, trimming her own bangs and hair as the Sharks watch, dubious, until she finishes, showing that the clips work perfectly.
She then passes out samples of her other products, CreaNails stencils and CreaLash. The Sharks appear impressed, and Kevin O'Leary ask about sales to date. In the past year, Mai has sold $500,000 worth of CreaClips, her main product. She has 30,000 followers on Youtube, and 20 million views. When her video went viral, she sold 150,000 units in a single week. The CreaClip sells for $30. The CreaNails and CreaLash sell for $24.99. Her profits are 66% on the product line.
Robert Herjavec can relate to Mai's story. His father was a refugee as well, and he feels "nothing I can ever do will be as hard as what he did." Robert doesn't feel he's the best partner for Mai, so he goes out.
Mark Cuban follows suit, saying that he's not the right partner either. Kevin O'Leary comments that clearly hair products aren't a line he's able to promote. Only two Sharks are left- Barbara Corcoran and Lori Greiner.
The two Shark ladies discuss whether they are going to offer a deal. Barbara makes the joke that she's willing to offer something unusual in the Tank- A full price offer… from Lori. When the chuckles subside, Barbara says that she doesn't "see room for an investor" in the product, and although she wishes Mae the best and hopes she will succeed, she's not making an offer.
Lori is the final Shark standing. She makes an offer of $200,000, in return for 25%. She feels there is some engineering work to be done. Mai counters at 20%, but Lori is only willing to meet her half way, at 22.5%. Mai accepts, and leaves the Tank with a Shark deal.
RESULT: DEAL with Lori for $200K for 22.5%
CreaProducts Shark Tank Update
The deal with Lori never closed but the Shark Tank effect rocketed Crea Products' sales by 5000%. Mai was featured as the model of Honokaa in a 2017 calendar, and visited Canada in August 2016 on a speaking tour. Mai continues to build her business and her online presence. Her self-help hair cutting and makeup application products are making her dreams of supporting of her parents come true.
As of June, 2022, the company is still in business with annual revenue of $3 million.
Posts About CreaProducts on Shark Tank Blog
CreaProducts Company Information
Video