Lori Greiner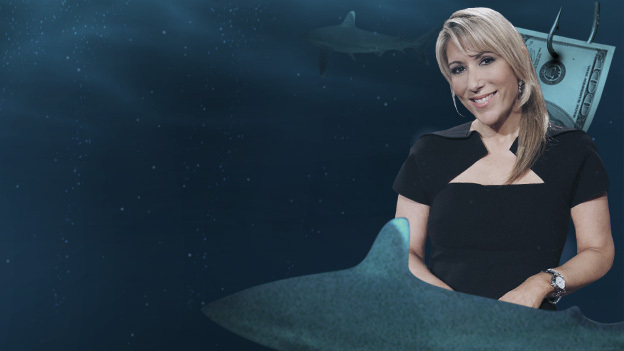 Lori Greiner, QVC Queen, is the newest Shark Tank Investor, filling in for Barbara Corcoran for several episodes. Lori is no stranger to the entrepreneurial world- she developed her first product back in 1996. Lori's earring organizer sold out on her first appearance on the QVC Network and she sold well over $1million worth of product. She hasn't looked back since.
That first successful product launch catapulted Lori Greiner into the fast paced world of the entrepreneur. Today she runs a multimillion dollar a year company, holds over 100 patents, has over $350 million in sales, and features over 350 products in her line. Lori sells kitchen tools, travel bags,  unique accessories, and must-have organizers for all around the home. Her many items can be purchased on her QVC Show, "Clever & Unique Creations by Lori Greiner," as well as in retail outlets all around the globe.
Lori Greiner's success is grounded in her determination, which she demonstrated at the outset of her career as an entrepreneur. She literally combed the streets of Chicago, sharing her first product, an earring organizer, with women and getting their feedback. Convinced that she had a winner, she doggedly pitched it, calling companies to distribute her invention "thousands of times," until they picked up the phone and eventually partnered with her on the earring organizer.
QVC Queen Lori Greiner Perfect Fit
This background makes Lori Greiner a perfect fit for the Shark Tank. Not only is she a self-made multimillionaire, but she's the show's resident "gadget expert."  Any time an entrepreneur with an "As-Seen-On-TV" type product comes on the show, all eyes fall on Lori first. They should, she has over ten years experience pitching her own products on her QVC show. She knows what sells, and she features products with a broad appeal that solve problems.
Lori Greiner also brings the experiences of starting at ground zero to the Shark Tank. When she developed her first product, she had to get patents, cut deals with manufacturers, and pitch would be investors and distribution partners herself. This experience gives her unparalleled insight into the process of bringing a product from idea, to prototype, to successful distribution. Now, after years of success, she finds herself in the position of being a go to person, in and out of the Shark Tank, in the business of new inventions for the retail market.
This bootstrapping background, along with her sharp edged personality and good looks, has made her an instant hit on the Shark Tank TV Show. It is unclear at this writing whether Lori will become one of the The Sharks on a full time basis or not, though she confessed on Twitter that she would "like to continue." Whether she stays on ABC's Shark Tank TV Show as a full time shark in the future remains to be seen, but she is, and will continue to be, my favorite shark!