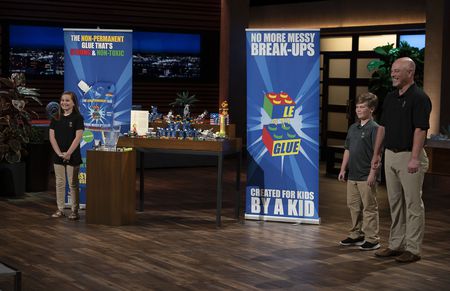 Tripp Phillips, along with his father, Lee, pitches Le Glue to the Sharks in Shark Tank episode 1001. Le Glue is a temporary "glue" that holds LEGO projects together. It also works on other building block products. Tripp and Lee created the product back in 2014 after Tripp's third grade teacher challenged his class to come up with an invention. Le Glue dissolves in warm water, so once you "glue" your LEGOS together, it's not permanent.
Tripp accepted his teacher's challenge and came up with the idea while playing with LEGOS. Whenever he played with a creation – like a spaceship – it would fall apart. He needed a temporary glue to keep things together. Tripp's dad, Lee, thought it was a million dollar idea. His teacher did too and encouraged Tripp to enter the International Torrence Creativity Awards. Tripp came in first place! In late 2015, he set up a Kickstarter campaign and raised around $4000 to get the business started.
Tripp and Lee started making LeGlue at the kitchen table and sold over 7000 units in 2017. They used business profits to fund their patent, which was granted in April, 2018. In addition to being water-soluble, the product is solvent free and has anti microbial properties to prevent mold. It holds your LEGO projects together without the "fear of messy break ups." Tripp sells his product on Amazon and the company website. Prices range from $6-$15. He likely wants a Shark's help getting broader distribution in the retail toy sector.
Le Glue Company Information
Video

Posts about Le Glue on Shark Tank Blog
LeGlue – Temporary LEGO Adhesive
Le Glue Shark Tank Recap
Tripp, his sister and Lee enter the Shark Tank seeking $80,000 for 15% of the business. He gives his pitch and drops two sets of Legos on the floor – one without his glue and one with. Of course, the glued Legos stay together. Then, he dissolves the glue with water. After his pitch, he hands out samples. The Sharks are very impressed with Tripp's savvy style and his utility patent. He's sold a total of $125,000 since he started the business.
Kevin offers $80,000 for 25% of the business with a 50% royalty on any licensing deals until he gets his money back, then his equity goes to 20%. The deal is contingent on getting into big box stores. He also wants him to come to the meetings, wear a black suit like Kevin and do the pitching. Daymond offers the same as Kevin with no contingencies, but they go with Kevin.
Le Glue Shark Tank Update
The Shark Tank Blog constantly provides updates and follow-ups about entrepreneurs who have appeared on the Shark Tank TV show. The deal with Kevin closed. Within one year, they did a little over $500,000 in sales. In February, 2020, the company appeared in The Shark Tank Greatest of All Time Special in the "baby sharks" category. In the segment, Barbara was so impressed with Tripp's salesmanship, she said she wanted to hire him!
In October, 2021, Tripp bought a used Mercedes LS430 with some of his profits. As of July, 2022, the company has over $1.2 million in sales. Tripp told Fox Business News in December, 2022 the company was selling roughly 15,000 units per month. At $8.99 per unit with a 96% profit margin, that equates to nearly $130,000 in profits monthly and $1.55 million per year in profits. Tripp also said they were growing at 10% annually. As of August, 2023, the company is still growing.