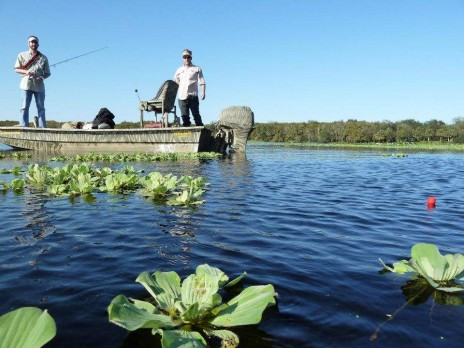 Shell Bobbers entrepreneurs Jeff Stafford and Dusty Holloway bring their fishing related products into the Shark Tank during episode 422. The two life-long friends and fishing buddies will pitch the Sharks on their fishing related products and accessories which is highlighted by their Shell Bobbers – a bobber made from a shot-gun shell. The pair also has a cooler/tackle box combo in the works, but the Shell Bobbers promise to be the featured product in their pitch. Fishing and Hunting go together like white and rice, so when they noticed a spent shotgun shell floating in the water on one of their fishing excursions, the pair decided to make them and start a business. They're selling the Shell Bobbers successfully now, maybe they can catch a Shark!
Shell Bobbers Shark Tank Recap
Jeff and Dusty enter the Shark Tank seeking $80k for a 20% share of their business. They only have about one thousand dollars in sales for their product, but they have a lot of interest from outdoor stores for their prototype. Since hunting and fishing is a multi million dollar industry, they think they have a winner.
Mr. Wonderful offers $80k for 50% of the business, with a 50 cent per-unit royalty until he gets his investment back, then the royalty goes to 10 cents in perpetuity. Jeff and Dusty decline. Robert doesn't think the guys have a real business and he goes out. Daymond follows Robert out. Lori is kind of interested, but hesitant.
Mark says the guys are right not to go with Mr. Wonderful and offers them $80K for 33% of the business. Lori isn't out yet, but Mark wants an answer right away. Jeff and Dusty accept Mark's offer. Daymond thinks it's a bad deal, but Mark thinks Daymond doesn't have vision.
Shell Bobbers Shark Tank Update
Shell Bobbers are selling briskly on Amazon. The deal with Mark went through and Jeff and Dusty appear in an update segment in season 5, episode 509 on October 25, 2013. Shell Bobbers are going into 3,000 7-11 stores and they're in negotiations with WalMart. The business is out of Dusty's garage an they've moved twice since airing to keep up with inventory demands.
The update segment shows their new facilities, with their employees and machinery. They say how proud they are to make their product in the USA. Before the show, they had less than $1,000 in sales. Shark Tank propelled them to 7-11 stores nationwide and, soon, WalMart. They are projecting over $1 million in sales for the year. They say their success is "all thanks to Shark Tank."
They eventually did get into Wal Mart. In February, 2017, Stafford took a job as the Chief Marketing Officer at Darwin Automotive. Holloway never closed the surveying business he's operated since 2010. As of July, 2021, their website is down and social media has not updated since 2017. The products are still available on Amazon, but not Wal Mart. Maybe they are just selling on Amazon or maybe this business is fizzling out. As of February, 2022, the products are "currently unavailable" on Amazon. It looks like they are out of business. Jeff is a VP of sales at JD Power and Dusty is running his own business, H&H Surveying.
Posts About Shell Bobbers on Shark Tank Blog
Shell Bobbers Update Interview with Jeff Stafford
Shell Bobbers Info