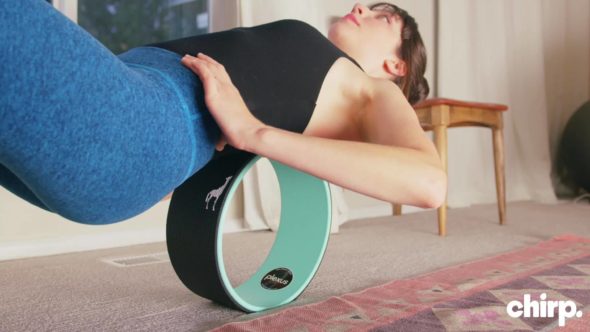 Tate Stock hopes to wheel and deal with the Sharks and get them to invest in Chirp, his yoga wheels that ease back pain, in Shark Tank episode 1203. He founded Chirp while still attending Brigham Young University. Originally called the Plexus Yoga Wheel, he first got the idea when he saw a similar wheel at his aunt's house. When he went looking for them on Amazon, they weren't being made any more.
He went out and bought some PVC pipe an yoga mats and made his own. After selling $12,000 worth of wheels (on a $400 investment), he decided to start making more wheels. In 2015, he used money he had saved to start production in Utah. He then went to China, but his Chinese manufacturer knocked off the product, so he came back to Utah where they're still made today.
By summer, 2017, Tate began consulting with doctors and chiropractors to re-brand the wheels to a back stretching device. At this point, he was selling around 500 units a day! Since shipping and fulfillment costs were eating into profits, Tate started his own fulfillment business: ShipStud.
In 2018, Tate went to Kickstarter and his campaign that raised a whopping $1,500,975. At this point, he rebranded the company to Chirp to "allow us to develop an entire line of pain relief products while still encompassing the essence of our brand." Total sales in 2018 were $8 million and 2019 was even better. Now, Tate wants a Shark's help to take the company to the next level.
Company Information
Video

Posts about Chirp on Shark Tank Blog
Chirp Shark Tank Recap
Tate enters the Shark Tank seeking $900,000 for 2% of his business. The business is doing big numbers. So far this year (2020), he has $12 million in sales. He projects $40 million by the end of the year with $12 million in profits. Daymond acts offended that a company with such good sales would come into the Shark Tank during a pandemic. He says he's only going to invest in businesses that need the money.
When Daymond pushes more on whether Tate came to the Tank wanting a deal, Tate says he's love to pay a Shark back by the end of next year (2021). When Lori seems like she's going to make an offer, Kevin jumps in and offers $900,000 for 2.5% plus a royalty of $3 a unit until he gets back $2.7 million. Daymond goes out saying he wants to invest in companies that need a boost. Mark thinks Covid is driving his big numbers and once it goes away, thing will flatten out; he's out.
Robert says "sales never lie," he wants to go along for the ride. He offers $900,000 for 3% plus a $1.50 royalty until he recoups $1.2 million. Tate asks Lori if she'll partner with Robert and she says no. Instead, she offers $900,000 for 2.5% and Tate pays her back $500,000 this year and $500,000 next year. Tate counters Lori with paying her back $400,000 this year and $500,000 next year for 2%. Lori says she'll do that at 2.5% and, after some deliberation, Tate accepts.
Chirp Shark Tank Update
The Shark Tank Blog constantly provides updates and follow-ups about entrepreneurs who have appeared on the Shark Tank TV show. It appears Tate was in the Tank for the commercial. The deal with Lori never closed. As of July, 2021, there are many knock-off products on Amazon. As of November, 2021, annual revenue is $4 million.
In January, 2022, the company announced their new Chirp Wheel Pro. According to a press release, "The Chirp Wheel Pro features a vibrating core with three power levels to increase blood flow and penetrate muscles deeper to help warm up and have a faster recovery." As of January, 2023, he has $5 million in annual revenue and the company is valued at $45 million.