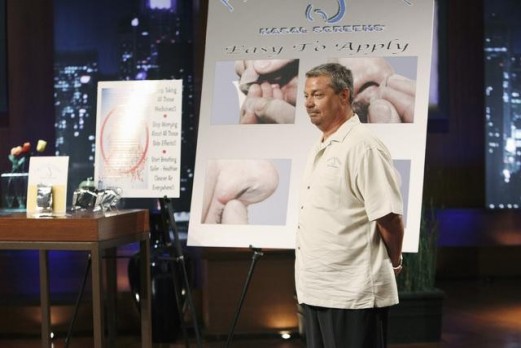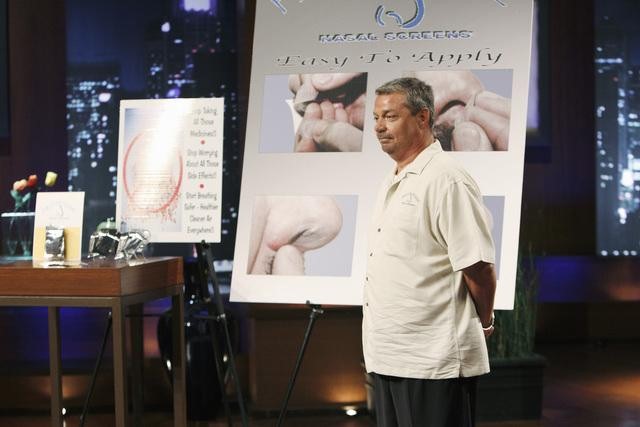 Joe Moore brings his First Defense Nasal Screens to the Shark Tank in Episode 202. His idea is simple – a small, stick-on filter. When placed over each nostril, the filters remove up to 99% of allergens, dust, pollen, and dander, reducing allergy symptoms and respiratory irritation. Those who suffer from asthma are particularly vulnerable to airborne particles, so the product has medical applications.
Unlike masks, the First Defense Nasal Screens are nearly invisible from a few steps away. Will the Sharks pass up on this unusual product, or will they smell a deal and take a bite?
First Defense Nasal Screens Shark Tank Recap
Moore is looking for a $500,000 investment in exchange for a 10% investment in his company. He enters the Shark Tank with a very simple, up front presentation. He explains that 1 in every 5 commercials on television today is aimed at reducing nasal allergy symptoms, and that every year, millions seek treatment in hospitals and doctor's offices for allergy and respiratory irritation issues.
The Sharks are skeptical. Mark Cuban wants to know "Are you kidding me?" Daymond John wants to know how many Moore has sold. When Moore answers, 1.7 million units, the Sharks perk up. When he reveals that he has a contract, in hand, for 8 million more units over six years, they're hooked. He shows the Sharks the contract and suddenly, Mark Cuban isn't laughing.
"All of a sudden, you don't look that funny with that stuff stuck up your nose," remarks Robert Herjavec.
Moore hands out samples to the Sharks, who are now taking him seriously. Kevin O'Leary wants to know about patents, and Cuban wants to know what the money will be for. The questions come fast and furious.
Any Offers?
Barbara Corcoran is out based on the cost of educating people on the need for the product. The other Sharks are not so hasty. Kevin O'Leary is "intrigued." He wants to make an offer. He's willing to give the $500,000, but he wants 20%, plus a 15% royalty. O'Leary pressures for an answer, but Mark Cuban steps up. He's willing to partner with O'Leary.
Daymond John offers $800,000, for 30%, with a 10% royalty. O'Leary takes a second bite, offering $1 million for the entire company. Moore turns that down, but concedes he would consider selling the company outright, for a high number, plus a 10% royalty.
Daymond John offers $1 million, for 30% and a 10% royalty, until he recoups his investment. Robert Herjavec ups his bid, offering $2 million for the company, and offering Moore a 10% royalty. There are now three offers on the table.
Robert Herjavec makes the largest offer in Shark Tank history. $4 million for the business, with the 10% royalty. Moore counter-offers. He would sell the company for $5 million, and 15% royalty. Herjavec turns him down. He's out.
O'Leary, Cuban, and John partner together to make one final offer. They're willing to give Moore $750,000, for 30% of the company, and a 15% perpetual royalty. Moore gets Mark Cuban to throw in season tickets to the Mavericks, and takes the deal.
First Defense Nasal Screens Shark Tank Update
The $4 million dollar offer was a Shark Tank record. Moore has no regrets. He walked out of the Tank still holding 70% of his company. The deal done on the air did not go through. Today, More is president and CEO of First Defense Nasal Screens. The exposure from the Shark Tank launched the business into the atmosphere, making First Defense Nasal Screens one of the most successful businesses ever to appear on the show.
The company has worldwide licensing and distribution contracts and patents in more than 50 countries. In 2018, it finalized a partnership with Filter Your Life Healthcare Private Limited, an Indian company, to distribute his products there. Sales went through the roof during the Covid-19 pandemic and the company discounted the product 15% to make it more accessible to people and help fight the virus.
As of August, 2023, the company is worth an estimated $50 million.
Posts About First Defense Nasal Screens on Shark Tank Blog
First Defense had Sharks Fighting
Don't Get Stuff Stuck In Your Nose
First Defense Nasal Screens Company Information