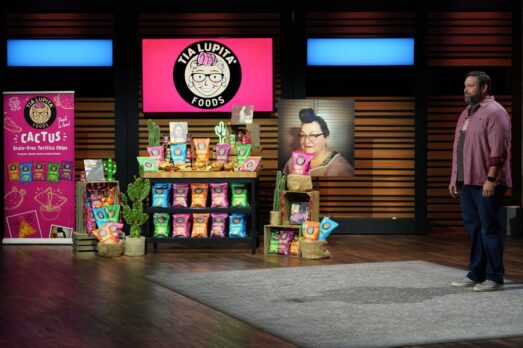 Hector Salvidar gives the Sharks a taste of Tia Lupita Foods, his line of healthy Mexican food items, in Shark Tank episode 1417. When Hector moved to the USA from his native Mexico back in 2007, his mother sent him along with her home made hot sauce that has "a delightful balance of heat and flavor." She'd ship him some hot sauce when he was running low and his friends raved about it. Hector, who worked for a number of years in the food industry, asked his mother for her recipe and her blessing to bottle and sell the sauce. Her image is even the company logo.
In 2018, Hector took the plunge and began bottling and selling his sauce. Along the way, he added catus tortilla chips, cactus tortillas, "salsa macha" and other sauces. The tortillas and chips are low calorie and low carb because they're made from nopales, the prickly pear cactus. They mix the catus with okrah flour to produce a healthy alternative to regular tortillas.
Like most other businesses, Tia Lupita Foods had to pivot during the 2020 Covid-19 pandemic. Most stores weren't receptive to new products because they were just trying to keep stocked up. Hector pivoted to eCommerce and found success. 2021 sales were $1.5 million and 2022 sales were $3 million. When the pandemic settled down, he got on the shelves and is currently in over 5000 stores in North America, mostly on the east and west coasts. You can buy Tia Lupita Foods products in Safeway, Whole Foods, Wal Mart, Amazon and more. Hector likely wants a Shark to help manage growth for his next phase of success.
Company Information
Video

Posts about Tia Lupita Foods on Shark Tank Blog
Tia Lupita – Healthy Mexican Foods
Tia Lupita Foods Shark Tank Recap
Hector will pitch the panel of five Sharks on the business and its prospects for growth. He'll need to convince Mark Cuban, Barbara Corcoran, Daymond John, Lori Greiner and Kevin O'Leary that the company is worthy of a Shark investment. A good business plan, good financials, and sales data will impress the Sharks, but he'll need to show them HE is capable of running the company to "Shark standards." A full pitch re-cap on Tia Lupita Foods will be available on Shark Tank Blog once this episode airs.
Tia Lupita Foods Shark Tank Update
The Shark Tank Blog constantly provides updates and follow-ups about entrepreneurs who have appeared on the Shark Tank TV show. Once an episode has aired, we monitor the progress of the businesses featured, whether they receive funding or not and report on their progress. The Shark Tank Blog will follow-up on Tia Lupita Foods & Hector Salvidar as more details become available.