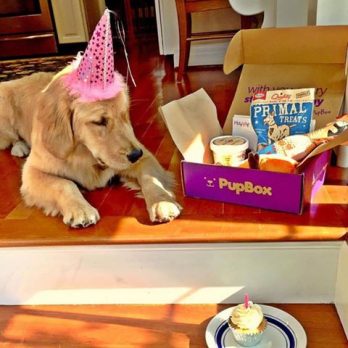 Ben and Ariel Zvaifler pitch PupBox, their subscription box service geared to puppy owners, in Shark Tank episode 810. They started their service after raising their own puppy. Big box treats and toys weren't up to their standards, so they sought out the best products to include in their boxes.
Each month, a box of training treats, toys, chews, accessories, and training aids arrives at your door. The boxes are "age appropriate" for your puppy. A twelve month Pup Box subscription costs $29 per month (paid upfront) and a one-time purchase costs $39. Each box has over $40 worth of products in it, so there is real value in each box.
PupBox likely wants a Shark to help fund growth. Will a Shark like puppies?
PupBox Shark Tank Recap
Ben and Ariel enter seeking $250,000 for 10% of their company. They promptly put a puppy in each Shark's lap, which softened them up a bit. They explained how they couldn't find good training materials and quality toys at regular retail stores, so they started their subscription box service.
When they entered the Tank, they had a little over $275K in sales and they are the only "dog box" service that caters exclusively to puppies. As the negotiations started, the Sharks – except for Robert – put down their puppies. Robert, a noted dog lover, had two in his hands when he made an offer. After some negotiations, Ben and Ariel accepted $275K for 15% of the company.
PupBox Shark Tank Update
The Shark Tank Blog constantly provides updates and follow-ups about entrepreneurs who have appeared on the Shark Tank TV show. In an update segment in episode 909, Ben and Ariel are hosting a puppy adoption event to highlight their business. Sales have more than doubled to over $750K since their appearance and they've made some changes.
They now include and sell their own branded accessories like leashes and collars. PupBox also expanded to boxes for adult dogs to retain more customers. With the new strategies and Robert's help, Ben and Ariel expect over $2 million in sales in the coming year.
In November, 2017, PupBox was acquired by PetCo. According to the Petco press release: "As part of the acquisition, Ben and Ariel, along with the entire PupBox team, will join Petco. Terms of the deal will not be disclosed."
Posts About PupBox on Shark Tank Blog
PupBox Company Information
Video