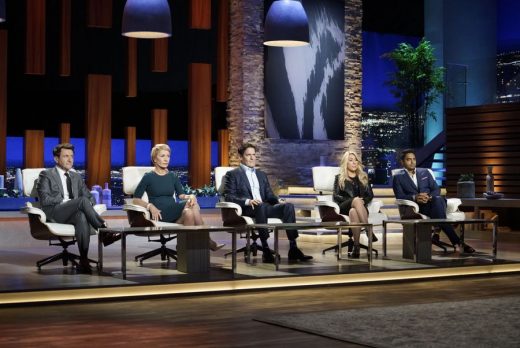 Episode 909 features the return of the "brandfather," Rohan Oza, as a guest Shark. He joins Mark, Lori, Barbara and Robert in evaluating four new businesses seeking an investment and a partner.
Vincent "Coco Vinny" Zaldivar wants to tap the Shark's expertise when he shows them Coco Taps, his tool that can tap and reseal raw coconuts and the nutritious coconut water inside. Brendan Alper looks for love through hate when he pitches Hater, a dating app that matches people based on mutual dislikes. Julia Cheek seeks an investor for EverlyWell, her fast growing home medical test kit business. Ashley Thompson and  Katherine Thomas hope the Sharks like Mush, their cold processed oatmeal that's a healthy breakfast or snack when you're on the go.
Which business goes home with a Shark as a partner?
In season 8, Robert invested $250,000 for 15% of PupBox, a monthly subscription box service for puppy owners. In tonight's episode, we'll see what the company accomplished with their Shark's help.
There are 28 Shark Tank Episodes for Season 9. This season features more appearances by "guest Sharks," including billionaire Sir Richard Branson. The 200th episode also airs this season. Casting is currently closed, but it never hurts to get a head start on season ten! If you would like to appear on the show, check out our Auditions and Casting information.
Episode 909 – The Shark Investors and Entrepreneurs
The Shark Tank Episode 904 entrepreneurs will make their best pitch to the panel of five Shark investors who will use their own money if they choose to invest. The Shark Investors negotiate on the spot without any previous information, which differs from typical negotiations between venture capital investors and entrepreneurial start-ups.
Companies pitching the Shark Investors must go through a rigorous due diligence process before an on-air deal is completed. Shark Tank Blog follow ups help you keep track of the companies that end up successful and the ones that don't complete their deal.
Thank you for reading SharkTankBlog, the number one site for Entrepreneurs, Investors and Fans. Our content updates multiple times day, giving you the latest information on Episode 909, Season 9, and all other seasons and episodes.
Episode 909 Press Release
Shark Tank: Episode 909 (11/26)
November 26, 2017
A NEW EPISODE OF ABC'S 'SHARK TANK'
DEBUTS ON SUNDAY, NOVEMBER 26
"Episode 909" – The Sharks may have met their perfect match on "Shark Tank," SUNDAY, NOV. 26 (9:00-10:00 p.m. EST) , on The ABC Television Network, streaming and on demand.
In this episode, an entrepreneur with a "hate connection" app hopes to match with the Sharks; coconut water is all the rage, and one entrepreneur looks to bank on that with their new invention; one entrepreneur is hoping to help you reduce chronic disease by doing your own lab work; and an entrepreneur duo may have just found your favorite breakfast on the go.
The Sharks in this episode are Rohan Oza, Barbara Corcoran, Mark Cuban, Lori Greiner and Robert Herjavec.