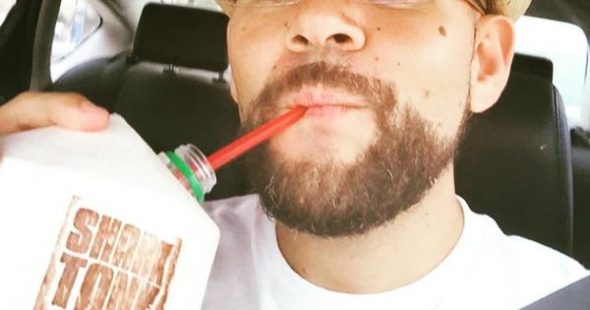 Vincent Zaldivar, aka Coco Vinny, wants the Sharks to tap into his equity in Coco Taps, his coconut tapping and re-sealing product, in Shark Tank episode 909. Coco Vinny grew up in Las Vegas and heard about the benefits of drinking coconut water to boost electrolytes. When he tried packaged coconut water, he didn't like it. When a friend introduced him to fresh coconut water – straight from the coconut itself – he was hooked.
The problem he had was he couldn't find a way to tap into coconuts efficiently. After breaking a knife opening a coconut, he sought a solution. That's when he invented (and patented) Coco Taps. Essentially, the product drills a hole into a young coconut, then a resealable, screw top spigot twists into the hole. Once tapped, the coconut acts as a vessel for the water within; drink it all at once or save some in the fridge for later.
Coco Vinny reached out to Wynn Resorts in his native Las Vegas and started offering "branded coconuts" for sale in various casino bars. Each branded coconut comes pre-tapped with a custom logo burned into the side of the coconut. He also offers a Coco Taps business kit for juice bars that allows operators to tap and self brand their own coconut water. If you want a Coco Tap for yourself, they're available on Amazon for $24.95. Each kit comes with the Coco Taps drill and two reusable, resealable taps.
Coco Vinny likely needs a Shark to help him build inventory and build the branded coconut side of the business. Will a Shark tap into this potentially lucrative business?
Coco Taps Company Information
Video

Posts about Coco Taps on Shark Tank Blog
Coco Taps Shark Tank Recap
Vinny enters seeking $150,000 for 10% of his business. As he enters, he has a hula girl with him and is playing the ukulele. He talks about the benefits of coco water and demonstrates his Coco Tapper. He says a freshly tapped coconut will last four weeks.
Sales were $250,000 in 2016 and he was expecting to double that number in 2017 (the episode taped in July 2017), 80% of his business was selling pre-tapped coconuts to resorts on the Las Vegas Strip an 20% came from the kits. He delivers 5-10 cases to the strip resorts daily. Each case costs him $27 and they sell for $45. He claims he hasn't sold more taps because he hasn't done any marketing for it.
Mark thinks there are too many things going on in this business and he goes out. Robert quickly follows. Barbara thought the margins were too slim but she could get behind the tap. Unfortunately, she felt it was too early on the tap; she's out. Lori thinks it's too niche; she's out. Rohan thinks Vinny needs more focus; he's the final Shark to go out.
Coco Taps Shark Tank Update
The Shark Tank Blog constantly provides updates and follow-ups about entrepreneurs who have appeared on the Shark Tank TV show. A year after appearing on Shark Tank, Vinny was featured on The Profit, where he also failed to get an investment. The reason was Coco Vinny's patent was rejected. He does have his products in over 60 Las Vegas restaurants and 20 resorts on the Strip.
2018 sales were $234,000, 2019 saw $300,000. Sales were hurt in 2020 during the pandemic and he hopes to get back to pre-pandemic levels in 2021. In April, 2020, Coco Vinny acquired a company called Robotic Beverage Technology for an undisclosed amount. They make collapsible cups. As of June, 2021, Vegas has begun to more fully open up and he's still selling coconuts. The kits are still available on Amazon, too. In June, 2022, the company is offering home tap kits for sale and annual revenue is under $1 million.