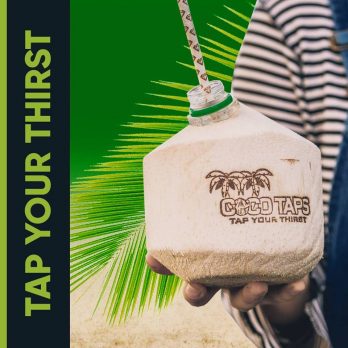 Vincent Zaldivar likes coconut water so much, he invented a tool, called CocoTaps, that turns a fresh coconut into its own bottle of coconut water. His patented kit includes a drill that makes a hole in the coconut and two bottle-top-looking caps that twist in. The caps can be re-sealed, so you can tote your coconut around like a water bottle.
Zaldivar, who goes by the name "Coco Vinny," started selling his product in Las Vegas casino bars and resort pools. His angle was getting visitors to buy pre-tapped coconuts with the casino's name burned into the side of the coconut. Patrons can sip pure coconut water or pour in rum and other goodies for a cool poolside libation. He also sells the kits in gift shops.
The business has two main sources of revenue: sales from the kits and sales from branded coconuts. The kits sell for $24.95 on Amazon. The branded products either come directly to the end user merchant with CocoTaps in place or Vinny sells a kit that lets juice bars and spas drill and brand their own coconuts.
Coconut water is a great, natural way to get electrolytes and it's a big deal in the health food space. Packaged coconut water loses something in the packing process – fresh is better. With a CocoTap, anyone can reap the benefits of fresh coconut water without the hassle. Now, Coco Vinny needs a Shark to jump into his waters when he pitches his idea in episode 909.
My Take on CocoTaps
I actually had one of these at a party in Las Vegas the last time I was there. Mine had some rum and pineapple juice in it. It was tasty and I liked bringing home the coconut. It never made it on the plane though. I drink coconut water every once in a while. It's good when I'm out fishing in the hot Florida sun.
I'd probably buy one of these kits just to have fresh coconut water I could easily put in my cooler. Like Coco Vinny, I think the fresh stuff tastes better. I like he novelty and utility of this product, I'm in.
Will Sharks Swim in Coconut Water?
Mark did a deal for Coco Jack back in season six. If you recall, the product let you open a coconut with a hammer. CocoTaps is a bit more elegant and far less violent than Coco Jack, but I don't think Mark stays in due to conflict of interest.
The Shark Coco Vinny wants to target is Rohan Oza. Coco Taps is part product and part branding. His product lets other businesses brand their own coconuts. I think Oza will like the concept and he'll probably have a way to boost the business quickly. In the video previews for this episode, Oza is enthusiastic about it, so I'm thinking he does a deal.