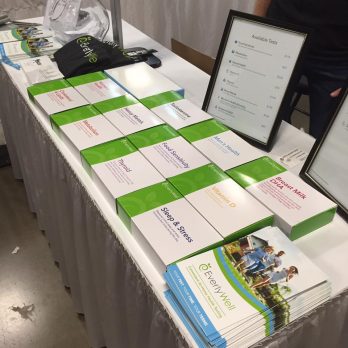 Julia Cheek created Everly Well home health test kits to take the hassle out of getting lab work done and to put more choice in the hands of consumers. If you ever had blood work done, you know you make an appointment with a doctor or lab who draws the blood. Then they ship it off for analysis. The results go to your doctor who you follow-up with a week or two later. That's an extra appointment out of people's schedules just to have somebody draw blood.
With Everly Well, you order a home test kit for cholesterol screening (for example), perform the test yourself with a pin prick, then ship the package off to a doctor approved lab for testing. YOU get the results back, then share them with your doctor at your next appointment. The business concept puts more control in the hands of the medical consumer and offers an alternative option to "regular" lab tests.
The cost varies for an Everly Well test, but they're in line with out-of-pocket expenses for standard lab procedures. As of now, the company doesn't have a mechanism for billing insurance companies, but you can submit a claim for reimbursement with your insurance carrier yourself. So far, Cheek built the business quickly and they have strong sales.. She likelywants a Shark's help to fund expansion when  she pitches the panel in episode 909.
My Take on Everly Well
I think this is a great idea. I am going for lab work in a couple of days for my cholesterol and I have to go back to the doctor's office a week and a half later. It's not an earth shattering disruption in my life, but it's one extra pain in the neck appointment I'd rather deal with myself. If doctors can rely on tests like the ones Everly Well sells (and insurance will pay for them) this business could be HUGE.
I actually asked my doctor about Everly Well when I saw him at our daughters' volleyball practice. He hadn't heard of the company, but he said if they were using accredited labs, he saw no issues. One objection he had was when results came back indicating something seriously wrong, he'd want to re-test to be sure.
Medical care is getting very expensive in the USA and I think test like these could save insurance companies and consumers a lot of money in the long-term. If the costs of the tests are comparable, insurance companies could save big bucks by ordering thousands of tests for common ailments (like cholesterol, STDs, Thyroid, vitamin D etc) and save money. If such an arrangement can be made, Cheek could have a very big business.
Will the Sharks think this is a Healthy Investment?
Besides sales, the biggest concern the Sharks should have is how this company handles privacy and how they select their labs. The reliability of the labs providing the end testing evaluations is tantamount to the company's success. Anyone can put a test kit in a box, but the results need to be reliable. Since they are handling sensitive health and DNA information (they have a genome test), privacy controls must be in place.
If Cheek can satisfy these two big objections and her equity ask is "Shark worthy," she'll get bids. Just a few weeks ago, Mark partnered with DNA Simple –  a home DNA testing/research service that operates in an empirically similar fashion to Everly Well. Mark might see this as a good, complementary business. He also likes trending new technology based businesses and home medical and DNA testing are the wave of the future. If Everly Well gets a deal, it'll be with Mark.