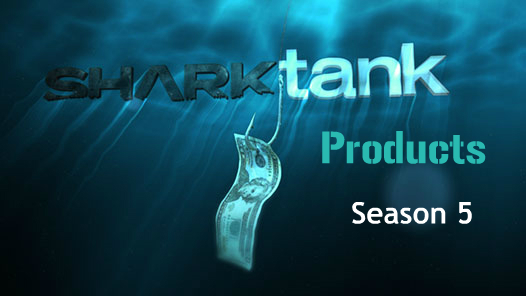 Season 5 Products As Seen on Shark Tank
Alphabetical list of all Season 5 products.
180 Cup


Alaska Glacial Mud Company

Angel Lift


Baker's Edge
Balloon Distractions


Bambooee
BareEASE


Belly Buds


Better Life
Bon Affair
BooBoo Goo
Bounce Boot Camp
Breathometer
Bubba Q Boneless Baby Back Ribs


Buffer Bit


Buzzy
BZBox
Cashmere Hair
Cerebral Success


Chapul
Cheek'd
Chocomize
Cinnaholic


Concealed Carry Academy
Cow Wow


Crio Bru
Cycloramic
DDP Yoga


Define Bottle


DoorBot (Now Ring)
Elephant Chat
Eyebloc
Fairytale Wishes


FiberFix


FitDeck
Fohawx
Foot Fairy


Fort Magic
Freshly Picked
Fun Time Express


Garage Door Lock

Grace and Lace
GrooveBook


Hamboards
HangEase


Hanukkah Tree Topper


Happy Feet
Henry's Humdingers
Hold Your Haunches


Ilumi


Invisiplug
IReTron
Kane and Couture


Kodiak Cakes
Kookn Kap
Kymera Body Board
LifeCaps
Litenetics


Lockerbones
Lord Nut Levington
Lynnae's Gourmet Pickles
Magic Moments
Man Medals


Mango Mango
Moberi
MonkeyLectric


Monkey Mat


Morninghead


Mo's Bows
My Freeloader


NexerSys

Oru Kayak
PackBack Books


Paint Brush Cover
Paparazzi Proposals


Pet Paint
Plated
Postcard on the Run


Power Pot
PurseCase
Quickstop Fire Sprinkler Tools
Rapid Ramen
Rent a Goat
RoloDoc
Rufflebutts & Ruggedbutts
Rugged Maniac
Scan
Schulzies Bread Pudding
ScreenMend
Slawsa
Southern Culture Foods
SpiritHoods
Squeaky Knees
Sunday Night Slow Jams
Surprise Ride
Susty Party
Sweet Ballz
SwimZip
Taylor Robinson Music
Ten Thirty One Productions
The Bouqs Company
The Cookie Dough Cafe
Tie-Not
Tipsy Elves
Total Merchant Resources
Tree T Pee
U-Lace
Veggie Mama
Velocity Signs
Virtuix Omni


Wall Rx (now Wall DR)
Wine Doctor
Yubo
Zoobean
The Season 5 products and businesses that appeared on ABC's Shark Tank feature some of the best Shark Tank Success stories in the history of the show. All season 5 products are listed on this page in alphabetical order, from A-Z. Many season 5 products can be purchased from Amazonwith NO SHIPPING COSTS!
Shark Tank entrepreneurs from every season count on Amazon to provide the trust, fulfillment, and low or no cost shipping today's online shoppers demand. If a season 5 product is listed on Amazon, you can be sure the business is sound and the entrepreneur values good fulfillment services.
Do you have a Shark Tank fan on your gift list? An Amazon Gift Card is a great way to let them choose their favorite Shark Tank Products for themselves.
There are season 5 products that can be found on direct websites, too. Some Shark Tank products are available exclusively from an individual businesses' site. Some businesses choose not to list on Amazon so their brand won't be eroded by discount wholesalers. This is a valid reason for selling direct and in no way should be considered a poor reflection on an individual company.
For great inside information on the Shark Tank on ABC, be sure to visit The Shark Tank Blog.