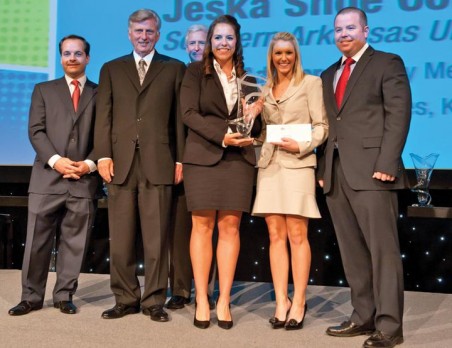 Jeska Shoe Company entrepreneur Jessica Haynes was a big winner in the  Southern Arkansas University Donald W. Reynold's Governor's Cup in 2011. She won the yearly  Innovation Award in the Graduate Division. Jessica brings Jeska Shoe Company and her award-winning product, a prototype shoe that switches out stiletto heals for flats via an interlocking, magnetic mechanism, into the Shark Tank in episode 420. According to the website: "The Donald W. Reynolds Governor's Cup is a statewide undergraduate & graduate business plan competition designed to encourage students in Arkansas, Nevada, and Oklahoma to act upon their ideas and talents in order to produce tomorrow's businesses. This competition is aimed at simulating the real-world process of entrepreneurs creating a business plan to soliciting start-up funds from potential investors. " As of the week prior to the air date, Jeska Shoe Company has no website and has not produced any shoes for the marketplace. It is a pre- revenue start-up.
Jeska Shoe Company Shark Tank Recap
Jessica entered the Shark Tank with her prototype shoes that switch out the stiletto heel for a wedge seeking $70k for an 30% share. Jessica reveals she's got about $63K of her own money the business, mostly from an unspent college fund from her grandfather. Robert thinks women like having lots of shoes, so he's out. Kevin, who NEVER funds pre-revenue start-ups, thinks Jessica has no plan; he's out. Mark doesn't know the shoe business, so he's out. Barbara thinks women who could afford Jeska Shoes could also afford more than one pair of shoes; she's out too.
In a Shark Tank tear-jerker, Daymond reminisces about his start-up days when his mother loaned him money to start FUBU out of their family home. Daymond tells Jessica he'll make an offer, but it's not a good one. He offers $70K for 70%. Daymond claims he has to do a lot of the work to get the product off the ground, hence the large percentage. Jessica says she'd rather have a small percentage of something than a large percentage of nothing and accepts.
DEAL: Daymond offers $70K for 70% of the business.
Jeska Shoe Company Shark Tank Update
Unfortunately, not all of the products that land a deal in the Shark Tank go on to achieve lasting success. In October 2014, Hayes posted a letter on Jeska Shoe Company's Facebook page, announcing that she was closing down her business. She thanked the customers, friends, family and others who had supported her dream, but said the company had simply come to a place of "diminishing returns," and that it no longer made sense to keep moving forward.
Even with a great product, and a solid mentor like Daymond John, not every product will sell. Hayes has the entrepreneurial spirit that should carry her forward, even after the failure of Jeska Shoe Company.
Posts about Jeska Shoe Company on Shark Tank Blog
Jeska Shoe Update Interview with Jessica Haynes
Company Information