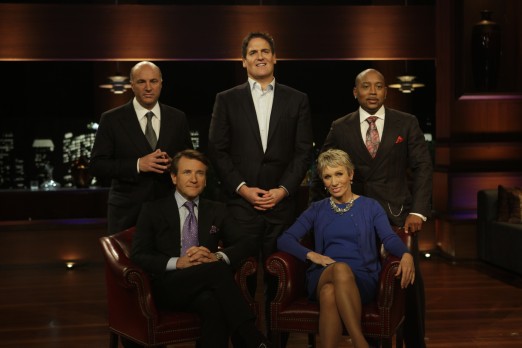 Episode 420 brings Barbara back into the Shark Tank as she and the panel of Sharks look for the newest Shark Tank success stories. 4 new entrepreneurs pitch the panel of wealthy investor Sharks on their businesses. Neo Mag Light/Black Magic Tattoo Removal  looks for an investment for their at-home tattoo removal device. PsiBands, stylish acupressure wrist bands that help prevent nausea, seeks an investment. Nuts n More looks to spread the news about their, fortified, sugar-free nut butters. Also, Jeska Shoe Company which creates women's shoes with interchangeable heels is featured.
Follow up segments featuring past Shark Tank success stories are a regular feature on Shark Tank.  Episode 420 updates fans on  Mike Hartwick and Sarah Ponn, the entrepreneurs who left the Shark Tank with a deal with Mark Cuban in season 4 for Surfset, a surfboard inspired piece of exercise equipment with accompanying classroom instruction.
There are 24 Shark Tank Episodes for Season 4. Casting for season 5 is now open! If you would like to appear on the show, check out our Auditions and Casting information.
Episode 420 – The Shark Investors and Entrepreneurs
The Shark Tank Episode 420 entrepreneurs will make their best pitch to the panel of five Shark investors who will use their own money if they choose to invest. The Shark Investors negotiate on the spot without any previous information, which differs from typical negotiations between venture capital investors and entrepreneurial start-ups.
Companies pitching the Shark Investors must go through a rigorous due diligence process before an on-air deal is completed. Shark Tank Blog follow ups help you keep track of the companies that end up successful and the ones that don't complete their deal.
Thank you for reading SharkTankBlog, the number one site for Entrepreneurs, Investors and Fans. Our content updates multiple times day, giving you the latest information on Episode 420, Season 4, and all other seasons and episodes.