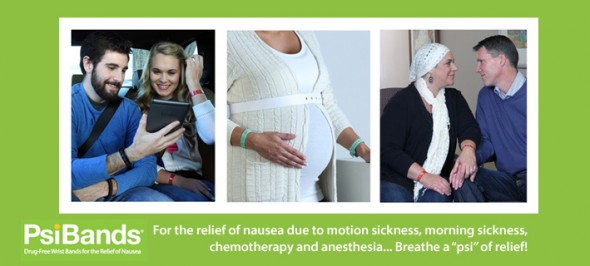 PSI Bands "momtreprenuer" Romy Taormina pitches the Sharks in episode 420. They are a fashionable twist on a tried and tested solution to nausea and motion sickness. Acupressure wrist bands apply pressure at a point on the wrist, just below the thumb. The pressure relieves nausea – without drugs. Acupressure wrist bands have been around for quite a while, PSIBands has packaged the concept into something resembling a wristwatch band. Other acupressure wristbands on the market look like tennis wristbands; they don't look good and they aren't waterproof. Boaters have been using acupressure wristbands for years to combat seasickness and Romy wants to sell to the boating crowd, but they're also marketing to moms with morning sickness and chemotherapy patients. PSI Bands (pronounced Sigh Bands) are currently available at REI, Whole Foods, pharmacy chains, & online and cost about $15.
PSI Bands Shark Tank Recap
Romy came into the Shark Tank asking for $250k for a 10% share in the business. Romy explains there are medical studies that prove the effectiveness of acupressure wrist bands (they've been around for many years – Psi Bands are just a new spin on an old idea). She reveals she has over $1 million in sales for the year (she told me in an interview she is rolling out in 7,500-8,000 additional retail outlets in 2013).  Romy also reveals she has $600K in debt, some of which is calculated to account for back salaries.
Barbara doesn't like the idea of company debt financing back salaries, she's out. Mark is leery about the medical research, he's out. Robert doesn't like the idea of cancer claims (Psi Bands help relieve nausea associated with chemotherapy), so he's out. Daymond says he doesn't trust Romy, so he's out. Mr. Wonderful offers $250K for 40% of the company. That's a figure Romy can't accept, so she declines the offer and Kevin offers up his famous "you're dead to me" line; he's out.
NO DEAL
PSI Bands Shark Tank Update
Despite the Shark's worries about medical claims, the company continues to grow and gain market share. Having gained FDA "clearance," they are now selling briskly through the website, Amazon, and other retailers. The FDA's clearance means that the creator had to prove that her product is "substantially equivalent to a device that is already legally marketed for the same use."
With nausea a very real problem for millions of people, they are a popular solution. Even though the Sharks refused a bite of the company, it seems that Psi Bands has found success. She has product on the shelves at Walgreens, Target, CVS, REI and Amazon.
As of October, 2022, the company is still in business and earns $5 million annually.
Posts about PSI Bands on Shark Tank Blog
Romy Taormina Psi Bands Pre-Show Interview
Company Information