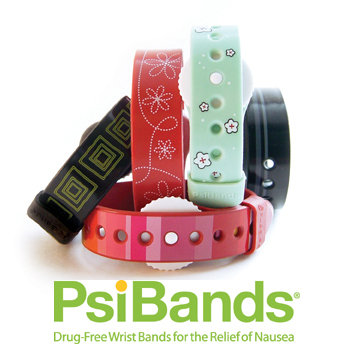 Acupressure wrist bands are nothing new under the sun. Boaters have used them for years to combat sea sickness; I used them in a sail to Bermuda in 1987 and on numerous cruises. The problem with most acupressure wrist bands is they look like dorky tennis wrist bands; they just aren't cool. PSI Bands is looking to change that.
Momtrepreneur (and proud "Ginger") Romy Taormina created PSI Bands (PSI stands for Pounds per Square Inch) to alleviate her morning sickness during her pregnancies. She didn't want to take nausea medication and, like me, she thought existing acupressure wrist bands were "drab and uncomfortable." Her solution was PSI Bands, wrist bands with some fashion flair.
PSI Bands look like a wrist watch band and have an adjustable pressure point mechanism. The wrist band is adjustable too: no more sweat bands!
Acupressure Wrist Bands Work!
This isn't some hokey gimmick, acupressure wrist bands really work. I used the sweat band style bracelets in several offshore sailing excursions back in the 1980's. Dramamine wasn't an option because it causes drowsiness and you can't be sleepy when you're on watch, especially in heavy weather. I also used the sweat band style bands on several cruises and I never got nauseous.
I can't personally speak for what they do for morning sickness or chemotherapy related nausea, but there are plenty of testimonials for PSI Bands on their website. There is abundant research proving the effectiveness of acupressure wrist bands in curing nausea, it's not something Romy just made up. In fact, PSI Bands are an FDA-cleared product for those who suffer from nausea.
Will the Sharks like the Pressure?
When I first saw PSI Bands, my initial reaction was "this already exists." Once I dug a bit deeper, I see the major differences between PSI Bands and other acupressure wrist bands on the market. PSI Bands are patented too, which the Sharks will like. As the PSI Bands website says: "they are drug-free, adjustable–around the wrist like a watch AND at the acupressure point, comfortable, waterproof, reusable, affordable, and, of course, fashionable."
The Sharks will undoubtedly question the science behind this product. I just hope it isn't labeled a "scam," because it isn't. This leads to another possible objection: the education cycle for this product. I've been sailing for most of my life; I grew up with these kinds of wrist bands for sea-sickness. In short, I get it, but will the mass market? Educating people about this product could be perceived as too cumbersome by the Sharks.
What Romy has going for her is she already has distribution in place. PSI Bands are currently available at REI, Whole Foods, pharmacy chains, & online and cost about $15. This could be one of those businesses that is at a certain stage in their growth and they're on Shark Tank looking to take it up a notch.  I am firmly "IN" (though I'd suggest some more masculine and/or neutral design options to Romy), but I don't think the Sharks are.