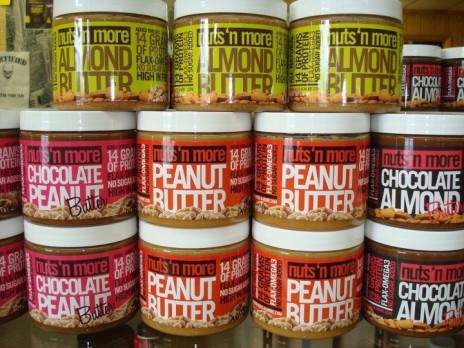 Nut Butters appeared on Shark Tank before – anyone remember the Wild Squirrel Nut butter gals? They got a deal with Barbara Corcoran in episode 315 in season three and had an update in episode 412 in season 4. In episode 420, Dennis Iannotti and Peter Ferreira, two fitness and nutrition experts from Pawtucket Rhode Island, bring Nuts n More fortified nut butters into the Shark Tank. Their products include both peanut butter and almond butter in a variety of flavors.
Nuts n More primarily markets to the health and fitness crowd. Their Facebook page is littered with photos of bodybuilders enjoying the various nut butters. They market the product as a protein supplement. These nut butters have 14 grams of protein and they're sugar free. Nuts n More is available online and in health food and fitness supplement stores, but they probably want broader distribution, hence the plunge into the Shark Tank.
You gotta be nuts not to love this stuff
Unless you have some sort of allergy, you gotta love peanut butter (and almond butter too). Nuts n More comes in a variety of flavors (chocolate and almond nut butters look DELISH) and they're all natural, sugar-free products. Dennis and Peter claim they've developed a special process to make their nut butters creamier and more spreadable than other all natural nut butters out there.
I can tell you one thing, I am getting hungry just writing this! I like peanut butter, so do my kids. My two vegetarian daughters practically live on the stuff.  I'll confess to having peanut butter and banana sandwiches 2-3 times a week myself! We like to try new, funky flavors too, and Nuts n More nut butters would be most welcome in our household!
Do Sharks take a taste of Nuts n More?
One thing is for sure, we know Barbara likes nut butters, she already invested in a similar company (without completing the deal). Will the other Sharks like Nuts n More? They ought to, Americans spend $800 million on peanut butter each year. 90 percent of USA households eat peanut butter regularly. That's a lot of peanut butter and a pretty big market niche. Couple that with the growing trend toward all natural products and Nuts n More seems positioned to grab a nice chunk of that market.
The business is relatively young, it started in 2011, and they're making sales too. In 2011, Nuts n More lists $61K in sales; 2012 & 2013 figures weren't disclosed. They manufacture their own product, so they probably don't have contract manufacturing in place. They've been selling their nut butters in health and fitness stores – a niche the founders are familiar with. Getting on the shelves in "traditional" grocery stores has to be the next step for Nuts n More.
On the surface, this seems like a pretty solid business. If the guys spend more time focusing on their brand and the opportunity for growth and they don't get bogged down by numbers, they could field multiple offers from the Sharks. It will be interesting to see if Barbara makes an offer. Whether she does or not, I am "IN," with a jar of chocolate almond nut butter!