This post brought to you by Immortalized On AMC. All opinions are 100% mine.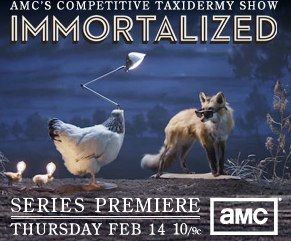 Immortalized is a new reality TV show that highlights the world of Taxidermy. Odd or offbeat professions are great content for the new breed of reality TV, and the Immortalizers is the latest entrant in this genre. The show airs Thursdays at 10 PM EST on AMC.
It's almost like Shark Tank, but with Taxidermy: each week, one of four pre-eminent taxidermists faces off against a "challenger" in a themed competition. The competitors are judged on originality, craftsmanship, and interpretation of the week's theme. Initial thems include "size matters" and "the end of the world."
AMC's goal with Immortalized is to break down sterotypes about taxidermy. They seek to present taxidermy as an art form, rather than a curiosity. Some of the featured taxidermists use "traditional" methods, while others are rogues who combine different animal body parts to make a new and unique creation; one contestant fused the body of a cat with the tail of a fish!
Two episodes have already aired. The taxidermists featured range from professionals who are full time taxidermists to amateurs, hunters in many cases, who seek to display their conquests.
Most people are fimiliar with Taxidermy; many museums feature taxidermy displays of one kind or another and nearly everyone has seen a stuffed deer head on a wall somewhere. While Immortalized won't win many fans from PETA, all the animal hides used were acquired lawfully. The show doesn't allow endangered species of any kind.
Reality competition shows are a proven formula, just like Shark Tank. If a show is interesting enough and the competitors are compelling personalities, it's a recipe for success! I think Immortalized will find an audience. Taxidermy is an interesting craft that most folks don't know much about, so there will be many curiosity viewers. The hunting crowd might like the show too.
I for one will tune in to check it out. If you have questions about Immortalized; find out more.