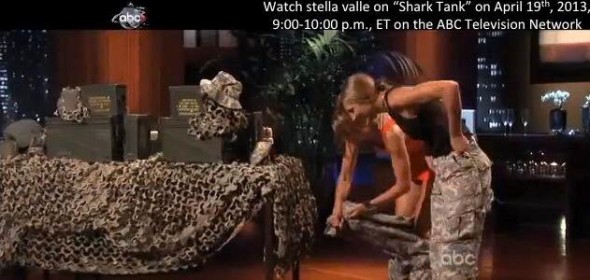 Stella Valle enters the Shark Tank in episode 423 as entrepreneurs, former West Point cadets, army officers, and sisters Ashley Jung and Paige Dellavalle pitch their line of  fashion jewelry that exudes "a wicked mélange of edge and elegance all at once." The New Jersey natives have two other sisters who are also in the military, but not involved in the business. The sisters started Stella Valle (a play on their last name) back in 2009 when they finished serving their country. After years of wearing army fatigues and serving active duty, the young women let their feminine side come out in their creations while still maintaining the "military edge" of strong lines and geometric shapes. The two women personify this transition as they enter the Shark Tank in fatigues and strip them off to reveal stylish dresses.
Stella Valle Shark Tank Recap
Ashley Jung and Paige Dellavalle approach the Sharks seeking $150,000 in return for 25% of their company. The entrepreneurs present their accessories line that's intended to "perfectly marry masculine and feminine characteristics."
The line is already in Bloomingdales and Henri Bendel, as well as a number of small boutiques. The partners feel ready to move the line to an international level, and are seeking a partner to help them achieve that goal.
The Sharks are impressed, but Kevin O'Leary wants to know about numbers. In the first year, they sold $37,000, and are on track to do $80,000 in the current year. Bloomingdales has had them come in and do three "trunk shows," to test the line. The cost of the pieces range from $3 to $45 to produce, and retail prices start at $96. The sisters would like to replicate the "trunk show" model across multiple retailers.
Who's In?
Kevin O'Leary questions the $600,000 valuation. He "can't get there," and he's out.
Robert Herjavec recognizes that the ladies are attempting to build a brand, but he doesn't believe in the "trunk show" strategy. He's out.
Daymond John Tells the ladies that they have an "amazing story," but he's leaning toward going out, but the partners do their best to convince him that they're a sound investment. Their efforts are to no avail. He "just doesn't like the jewelry," and he goes out.
Lori Greiner likes the jewelry line, and is impressed that a portion of some of the proceeds go to the Wounded Warrior Project. She asks Mark Cuban if he's interested in going in with her on an offer. She believes that they women could use QVC, as well as retail sales, to build the brand. They offer $150,000 for 35% of the company. The ladies accept the offer, and leave the Tank with a Shark deal.
Stella Valle Shark Tank Update
Sometimes entrepreneurs enter the Shark Tank, and you just can't help but root for them. Jung and Dellavalle were just such partners. Courageous, dedicated, and passionate, the pair designed a bold and unique line that stood out from any other the Sharks have picked up in the past. With Lori Greiner and Mark Cuban standing behind them, the pair have rocketed to success. True to her word, Greiner has gotten the Stella Valle line onto QVC, where it remains available today. The dual strategy, of placing the Stella Valle lines on QVC and in retail stores seems to be successful. Target has its own line of the jewelry, bringing these military ladies into the most mainstream of stores and putting a final seal upon their success story.
Since then, they have their jewelry in Jared Jewelers and many other smaller retailers. They also have an Amazon store. In November, 2019, they opened their own retail location in New Hope, PA. Originally intended to be a pop-up shop for the holiday season, they decided to make it their "flagship store." They have plans to open more stores in New Jersey. They have yet to do so by 2022 however.
As of June, 2022, annual revenue is $5 million. In September, 2022, Ashley left the company to go to work as a Vice President at LMI, a governmental consulting firm. In March, 2023, the website is down, but the products are still available at Jared and Amazon. Shark Tank Blog will update this page as more information becomes available.
Posts About Stella Valle on Shark Tank Blog
Stella Valle Information