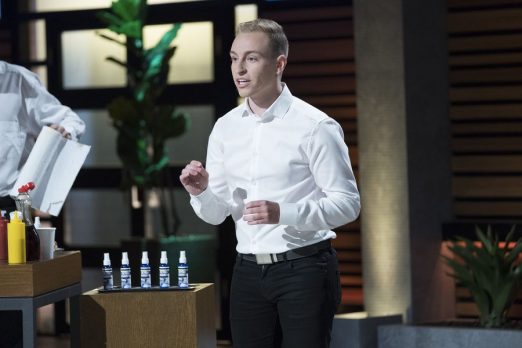 David Zamarin hopes he won't repel the Sharks when he pitches DetraPel, his liquid repellent spray, in Shark Tank episode 916. Zamarin invented DetraPel in 2013 when he was just 16 years old. The product is designed to repel water and dirt from fabrics, yet it uses all eco-friendly ingredients. He calls it a "hydrophobic" formula, but it's base ingredient is an extract from decomposed lotus plants. Like the leaf of the plant, when water contacts a surface treated with DetraPel, it just beads up and rolls off. It also acts as an anti corrosion and icing agent.
Back in 2013, Zamarin launched an unsuccessful IndieGoGo Campaign that raised just over $3000 (on a $50,000 goal) to get the business off the ground. After operating out of First Round Capital's offices (that's where Uber got its start) for a while, David moved the company to Boston. Now, along with several other business associates, he's running an office in Wellesley, Massachusetts and has a partnership with Babson College's Entrepreneurship program.
The product itself is very easy to use. Simply apply to clean, dry fabric (leather too), let it dry 30 minutes, and that's it. An application lasts about a year and prevents water damage and stains on everything from sneakers to table cloths. A 2 ounce bottle treats about ten square feet and costs $12.99. Zamarin likely wants a Shark to help him build the brand and expand its retail and wholesale reach.
Will a Shark keep it clean and invest??
DetraPel Company Information
Video

Posts about DetraPel on Shark Tank Blog
DetraPel Shark Tank Recap
David enters seeking $200,000 for 20%  of his company. He has a very visual pitch. He spills coffee on himself, ruining his shirt. Next, he takes that shirt off and spills coffee on a shirt treated with his product and the coffee doesn't stain it, then he pours red wine on some carpet treated with Detrapel and it too "rolls" off. Next he dumps white sneakers into a tub of mud and they too emerge clean.
The Sharks are impressed when he tells them he sold a shoe cleaning business that was making $25,000 a month for $150,000 to fund his start up. When they find out he's only 19, they give him a round of applause. His sales for the year (2017) are $350,000 with most sales to people who sell carpet and furniture. One unit costs $1.14 to make and sells for $12.99. David assures the Sharks the formula is proprietary.
Mark gets things going and offers $200,000 for 25% and says he'll put David in touch with nanotech companies that "know their stuff." Before David can speak, Lori jumps in and offers $200,000 for 25%. David asks if they'll team up and Rohan offers $200,000  for 25%. When David says he needs help with the business side of things, Mark and Lori agree to partner up. Then Robert says he and Rohan will offer $200,000 for 23%. Barbara says he has two good offers and goes out and she tells him to take Mark and Lori's offer. He does.
DetraPel Shark Tank Update
The Shark Tank Blog constantly provides updates and follow-ups about entrepreneurs who have appeared on the Shark Tank TV show. Mark and Lori closed this deal. In the immediate aftermath of the original air date, David sold over 10,000 units and had a 2 month backlog on orders. Carpet and furniture makers are big customers.
They continue to source and manufacture their products in the USA. In February, 2019, they moved to a 12,000 square foot facility in Framingham, Massachusetts. They were doing $125,000 a month in sales when the Covid-19 pandemic hit. When that happened, David shifted 98% of his production capacity to disinfectants and hand sanitizer for local businesses, hospitals and first responders. In December, 2020 David was named to the 2021 Forbes 30 Under 30 list. As of June, 2021, the disinfectants and sanitizers are part of their line. They moved into a 40,000 square foot facility and employ 15 people, including in house chemists. They now make products for stain removal, auto care, leather care, outdoor products, babies and toddlers, and clothing.
"DetraPel Industrial" was introduced in early 2022 to focus on paper, food packaging and textile coatings. In November, 2022, the company announce a $7 million series A funding round.
In April, 2023, the company announced it was rebranding the industrial products division of the business to Impermea Materials. Imperia focuses on providing paper packaging products that repel grease for 7 days without using harnful chemicals. These treated paper products are popular in the food service industry and the company is in negotiations with Chik-Fil-A to require their paper packaging manufacturers us the Imperia coatings. David plans to rebrand the consumer side of the business at a later date while retaining the name Detrapel as the parent company. Later in 2023, they'll be moving again to a larger facility that will be twice the size of its current one.
As of August, 2023, annual revenue is $23 million. Shark Tank Blog will continue to track new developments with this company.