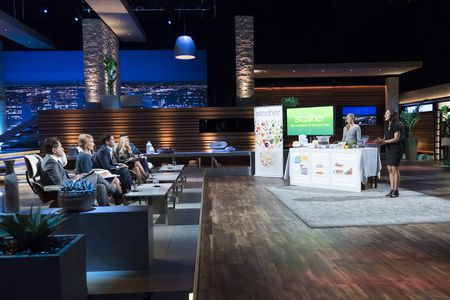 Kat Nouri hopes to clean up the oceans and the Shark Tank when she pitches Stasher, her line of reusable silicone storage bags, in episode 916. Nouri, a nutrition buff, was disgusted by the amount of plastic bags she was using to pack her kids' lunches. That prompted her seek out a solution. Instead of plastic, she makes her Stasher bags from pure platinum silicone. Just like resealable plastic, they seal airtight.
They last about three years and can go from freezer to microwave to dishwasher. They even stand up to boiling water, so you can use them for sous vide cooking. She unveiled the product in January 2016 and now they're widely available on Amazon, at Target and many other stores.
This isn't her first business venture or her first foray into silicone based products. In 2005, she started a business called Modern Twist, which makes silicone-based placemats, coasters and a variety of baby products.  That company does about $10 million in yearly sales.
Stasher bags come in three sizes (with more on the way): half-gallon, sandwich and snack size. They come in a variety of colors and cost anywhere from $12-$20 each. Since they last three years, Nouri hopes consumers will use them instead of plastic bags. She likely wants a Shark's help accelerating growth.
Will a Shark bag this opportunity?
Stasher Company Information
Video

Posts about Stasher on Shark Tank Blog
Stasher Shark Tank Recap
Kat enters the Shark Tank with a helper. She is seeking $400,000 for 5% of her business. Kat gives her pitch and the two demonstrate how it's used. She hands out samples and explains she has patents on the bags' seals. The Sharks think they're pricey, but she says it's because of the platinum silicone that can be re-used thousands of times. Plus, people will save because they aren't buying all those plastic bags. Sales are $1.6 million in the past year. Blended margins are 63% and the company is profitable. She's confident it will be a $100 million company in 4 years which makes the Sharks laugh.
Robert doesn't understand the product's advantages; he's out. Barbara wouldn't buy it because it's too expensive; she's out. Lori and Rohan, who were considering teaming up on an offer are next out, leaving just Mark. He offers $400,000 for 20% plus a $400,000 line of credit. Kat counters with 15% and Mark accepts.
Stasher Shark Tank Update
The Shark Tank Blog constantly provides updates and follow-ups about entrepreneurs who have appeared on the Shark Tank TV show. The deal with Mark never closed. Less than two years after appearing on the show, SC Johnson acquired the company in December, 2019 for an undisclosed amount. As of August, 2023, the brand generates $12 million in annual revenue.