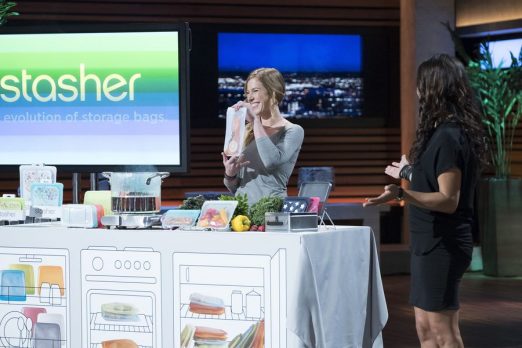 Stasher Bags inventor Kat Nouri is no stranger to building a big business. She's the founder of a $10 million business called Modern Twist which makes silicone-based baby products. Nouri likes packing healthy lunches and snacks for her kids, but she hates the idea of using disposable, plastic bags. With that in mind, she took her knowledge of working with silicone and found a solution.
She used "pure platinum silicone" to make Stasher Bags, a reusable storage bags for meals and snacks. Unlike their plastic counterparts, they can go from freezer to microwave and they're dishwasher safe. Since they last three years, one or two Stasher Bags can replace hundreds, if not thousands, of plastic snack bags.
Plastics are slowly ruining the planet. Hundreds of tons of plastic items litter our oceans and landfills. Plastics take nearly 600 years to decompose and some of the chemicals can leach into the foods we store in them. Nouri believes Stasher Bags, made from silica (a natural resource) can curb the plastic problem we face. By reducing, reusing and recycling, we can all rethink how we treat our planet. If a million people use a few Stasher Bags to replace plastic bags, many tons of plastic won't go into a landfill or the ocean.
Nouri hopes the Sharks believe her eco-friendly message and buy into her product when she pitches it in episode 916. She has the business acumen and is familiar with silicone based products, so she'll have immediate credibility. If the product's sales line up with her experience and passion, Sharks may bite.
My Take on Stasher Bags
I thought of this idea at least 20 years ago, but didn't have the foggiest notion of how to get it done. Nouri did, that's why she's on Shark Tank! I reuse most of my Ziploc bags. After the first use, they become "fishing bags" for bait or caught fish. Even after multiple uses, they still get recycled. I wouldn't mind having a half-dozen Stasher Bags for both food storage, traveling snacks and bait.
They're a bit pricey, but over three years, I'd probably spend just as much money (or more) on plastic bags, so it would all work out. Since they can go into boiling water, I could also pre-cook meals for sous vide cooking. That convenience alone makes them a product I want in my home. I am in.
Will Sharks Stash Away Some Cash for this Business?
This pitch has "deal" written all over it. Lori will jump at this, the second silicone based product of the evening (see FryWall from the earlier episode). While other Sharks may compete, I think Lori prevails. Lori is going to build a mini silicone products empire with FryWall, Stasher Bags, and Safe Grabs. Having several silicone products in her portfolio lets her reduce production costs and solidify her brand. Stasher will do the deal with Lori.