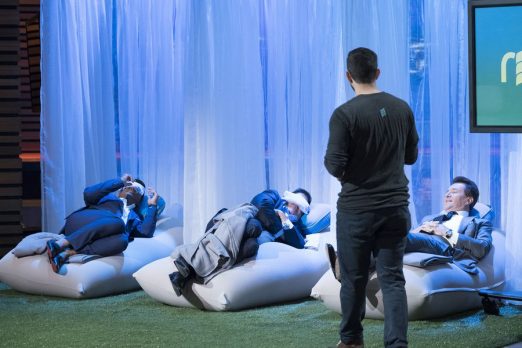 Re Charj founder Daniel Turissini knows the power of power naps. When he was working 80 hours a week as a consultant in the busy Washington DC area, he found he needed time to decompress during his day. He wasn't alone. Friends and colleagues shared stories of sneaking off to the bathroom or their cars for a quick power nap. Instead of continuing in his own version of the rat race, Turissini decided to make the entrepreneurial leap in December 2016 and open the first Re Charj nap and meditation studio in the busy lobby of the Suntrust Bank building in downtown Washington DC. He opened a second studio in a business park in nearby Bethesda, MD in 2017.
The studios are a true oasis in the loud , crowded business spaces they occupy. Customers go from the concrete and steel jungle into a calming environment, complete with tree bark walls! Once inside, they can go into curtained areas with extra-large Yogibo bean bags for a quick, 20 minute power nap. They also offer hot tea, soothing lotions and candles for sale.
If you really want to decompress, you can also sign up for meditation classes. Meditation instructors/counselors conduct a variety of soothing classes to help busy professionals unwind. Naps are nine bucks on a drop in basis and the meditation classes are s$18 or in bundles of five for $81. Companies can also rent the spaces for corporate retreats.
When Turissini pitches the Sharks in episode 916, he probably wants seed money to open more locations. He'll need to convince the Sharks of the growth potential for the business. In this busy world, these types of spaces would be welcome, but for the Sharks, they need to be profitable too.
My Take on Re Charj
Back in the late nineties, before the dot com bubble burst, I sold data and phone services and co-location space to high-tech companies. I was a busy, on the go sales guy and I often took power naps in my car. If I'd been in a building that had a nap studio, I would have used it, especially if they had Yogibo bean bags (they're so comfy). Nowadays, if I want a power nap, I take it by the pool.
While I like this idea, I think the problem is the business isn't proprietary. If a property management company wanted this amenity for a large office building, they could easily do it themselves. While it might be easier to just rent the space to a business like Re Charj, other competitors could quickly and easily duplicate the business. The costs are minimal: a few bean bags, some decor, and the cost of the space. It's not like opening a Chipotle in an office lobby. I do like the idea, but I don't think the Sharks will.
Do Sharks Sleep On it and do a Deal?
I think the Sharks all pass on this one for the reasons stated above. There's nothing proprietary and growing the business will take too much time. Expect the Sharks to drop out one by one with the "it's not for me" excuse.