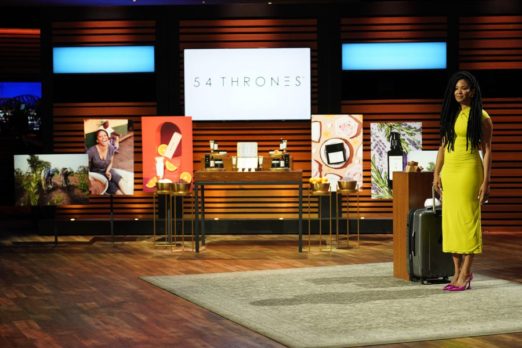 Christina Tegbe seeks an investor for 54 Thrones, her made in Africa botanical skincare line, in Shark Tank episode 1303. She's originally a health care consultant, but one day she was cleaning out her bathroom and found her skin care products were loaded with harsh chemicals. Originally from Nigeria, she started thinking about the Shea butter her aunties would send her home with when she visited.
In 2015, she left consulting and launched her business. She began by traveling to different African countries and finding local people to produce her products with all natural, African ingredients. For instance, she has a Ghanaian collection which has pure Shea butter, Baobab Oil and Black Soap. The Moroccan collection has Argan oil, Beldi Soap, Rosewater and Rhassoul Clay. There are all natural, organic butters, soaps and lotions from dozens of African countries in her line.
The name 54 Thrones is a nod to the 54 different countries in Africa. The brand is part of the black-owned beauty brands in Sephora's 2021 Accelerate program which gives black owned businesses a hands on course in building their business. Christina's products are available in all Sephora stores and in select Neiman Marcus stores. Christina likely wants a Shark to help with her digital marketing. Will a Shark find this business to be a natural fit?
Company Information
Video

Posts about 54 Thrones on Shark Tank Blog
African Made Skin Care by 54 Thrones
54 Thrones Shark Tank Recap
Christina enters the Shark Tank seeking $250,000 for 10% of her African skin care business. She tells the story of her African heritage how her relatives used to ship tubs of Shea butter to her family. She then produces one of the tubs for the Sharks. The Sharks try the samples before them and Robert needs a towel because he used too much. She tells the Sharks she's a first generation American whose father instilled pride in her heritage in her.
Christina quit her job as a Healthcare Administrator and cashed in her 401K to travel in Africa and she was drawn to makers of African beauty products. She decided to start the skin care line using the local artisans she met in her travels.
2020 sales were $500,000 with only $8000 in marketing expense. Those sales were boosted by being on Oprah's Favorite things.  Previous to that, lifetime revenue was $300,000. However, she's on track to do $1 million in sales for 2021. She also did a deal with Sephora and Nordstrom's for retail presence. In 2020, sales were 75% direct to consumer and 25% retail. She expects those numbers to flip in 2021. One bottle costs $12 to make and sells for $80.
Despite the margins, Robert says he doesn't have a passion for the business, he's out. Mark says Christina is a rock star, but he doesn't understand the business, he's out. Kevin says he doesn't see where he can add value. Lori says she has a conflict of interest, she's out. Nirav says his wife worked at Neutrogena for 8 years and understands that skin care is a lifestyle. He offers to put up half the cash if another Shark will go in with him. Kevin says he will for 20%. Christina counters with 15%. Nirav wants the deal so bad, he says he'll take less equity than Kevin. Christina counters with 17/5% and they agree, but Mr. Wonderful gets 10% and Nirav gets 7.5%.
54 Thrones Shark Tank Update
The Shark Tank Blog constantly provides updates and follow-ups about entrepreneurs who have appeared on the Shark Tank TV show. The deal with Nirav and Kevin never closed. In June, 2022, the company was accepted (again) into the 2022 Sephora Accelerate program, a business mentoring program that focuses on mentoring founders of color. 2021 sales were a little over $1 million. As of August, 2023, the products can be found in Nordstrom, Credo and Sephora stores. Annual revenue at this time is $1.3 million.
This page will be updated as new information on Christina Tegbe & 54 Thrones becomes available.