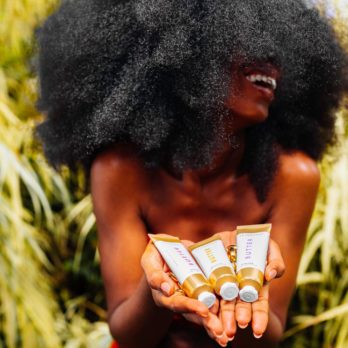 Christina Tegbe named her African made skin care line after the continent itself. Africa has 54 countries, so she named the company 54 Thrones. All the products are made in Africa by local artisans. The product line is as varied as the different cultures throughout Africa. There are things like an Egyptian lavender and Moroccan mint butter. Ugandan vanilla and Ethiopian honey butter and many more. One of the common ingredients in many of the products is shea butter, a fat extracted from the nut of the African shea tree.
Christina was introduced to she butter at a young age. She was always impressed by how good her African relatives' skin looked. The secret was shea butter. They even shipped it to her in Texas as a child. She made the move from healthcare consultant to entrepreneur when she decided she wanted to pursue her three passions: traveling the world, Africa and beauty. She was also disturbed by the amount of chemicals in her skin care products.
The African made angle is a big part of her mission and her marketing. She shares her travels on the company social media. She also shows how the varied artisans throughout the continent making the products. The result is a very engaged community of customers.
My Take on 54 Thrones African made products
There is a town in Florida called Tarpon Springs my wife and I like  to visit. It is a Greek community that is known as "The Sponge Diving Capital of the World." There are a ton of cute shops and wonderful, authentic Greek restaurants. Whenever we go there, we stop in a little soap shop  to buy natural soaps. They always have a big tub of shea butter out for customers to sample. We usually buy a few bars of shea butter soap – the stuff really works on rough, dry skin!
That said, I'm not a likely customer for 54 Thrones. I do like the social angle of the business though. Scrolling through Christina's website and social media, I got the feeling that both she and her business were authentic and engaging. After looking at all of them, I believe what she says: Africa is a beautiful and diverse country. I wish her well.
Will Sharks Sit on 54 Thrones?
Beauty products don't have a strong track record in the  Shark Tank. It's a very competitive industry with huge players that can crush small companies like cockroaches. That said, Christina has made inroads into retail where the majority of cosmetics sell. 54 Thrones in Sephora stores which has an international presence and in several hunderd Neiman Marcus stores.
I have no idea what Nirav Tolia will do, so he's a bit of a wild card. Mr. Wonderful never goes for cosmetics because they are so competitive. I doubt Mark bids either. The leaves Barbara and Lori. Either of the Sharkettes could bid if everything falls into place during the pitch. If sales are strong and the valuation is good, Christina may get offers, but it's iffy in my book.