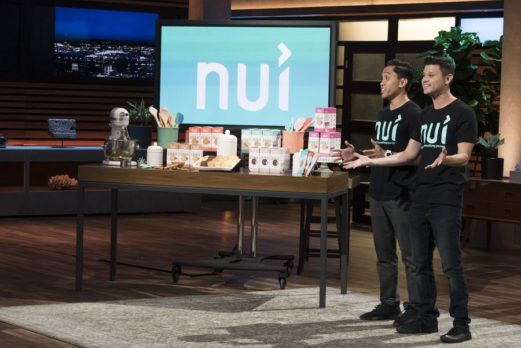 Kristopher Quiaoit and Victor Macias pitch Nui, their keto diet-friendly cookies, in Shark Tank episode 1007. A few years ago, the guys decided to try the keto diet – a diet that virtually eliminates carbs and sugar. Victor actually lost forty pounds and both men felt like they had more energy. They found it difficult to eliminate sugar since it's in a lot of foods. The two friends also had a weakness for cookies.
They began experimenting in Kristopher's mother's kitchen and after many tries, they came up with a cookie that was low carb, low sugar, and delicious. Nui cookies are made with almond, good fats, and natural sweeteners. There is a little naturally occurring sugar in the nuts, but it would take almost 20 Nui cookies to equal the amount of sugar in one traditional cookie. With a blend of natural sweeteners, monk fruit and erythritol, the guys managed to make a cookie that's as sweet as any other. Each cookie is gluten-free, low net carb, diabetic friendly, and keto friendly.
They got their business going with two Kickstarter campaigns, one raised $21,495 in August 2016 and another raised $79,187 in October 2017. Back then, they were calling it "The Keto Cookie." They changed the name to Nui and rebranded in May, 2018.
A pack of 16 cookies costs twenty-five bucks. There are four flavors: Ginger Something, Chocolate Chip, Peanut Butter and Double Chocolate. Reviews online are mostly positive and almost everyone thinks they taste yummy. Right now, they're only available online. They likely want a Shark's help getting broader distribution.
Nui Company Information
Video

Posts about Nui on Shark Tank Blog
Nui Shark Tank Recap
Kristopher and Victor enter the Shark Tank seeking $300,000 for 10% of their business. They tell their story and give their pitch then hand out samples. In the past year, they sold $1.1 million. They use keto influencers to promote products. They had to hire a copacker to keep up with demand, they hope that will increase margins, too.
Mark has a competing company, so he's out. Lori doesn't like their valuation, she's out. Kevin offers $300,000 for 2.5% and $1 royalty per unit which drops to 45 cents in perpetuity once $300,000 is recouped. Barbara offers $150,000 plus a $150,000 line of credit for 15% plus a 50 cent royalty in perpetuity. A-Rod offers $300,000 for 25% and the guys accept.
Nui Shark Tank Update
The Shark Tank Blog constantly provides updates and follow-ups about entrepreneurs who have appeared on the Shark Tank TV show. It looks like the deal with A-Rod didn't close. They expanded their product line to include chewy cookies in the year following their air date (2018) That year they did $1.7 million in sales. They are in Wal Mart and on Amazon.
In 2020, they stopped posting on their social media and their website went dark. As of April, 2022, that hasn't changed. Both men still list Nui as their business on LinkedIn, but I'd say they're out of business.
In August, 2022, Kristopher cleared the air on his LinkedIn profile. Apparently, their co-packer they hired shipped cookies that weren't shelf stable and they began getting complaints about moldy cookies. They had to issue refunds and toss out a significant amount of product. The company didn't have insurance and had to take out massive debt to cover their losses and launch a new line of cookies. They tried to market their new cookies and did so successfully for a time, but the debt crushed them. The business shut down in 2020 and Kristopher declared personal bankruptcy. He is unemployed at this time. Victor still lists the company as "open" on his LinkedIn profile; he is currently selling business training courses on his website.