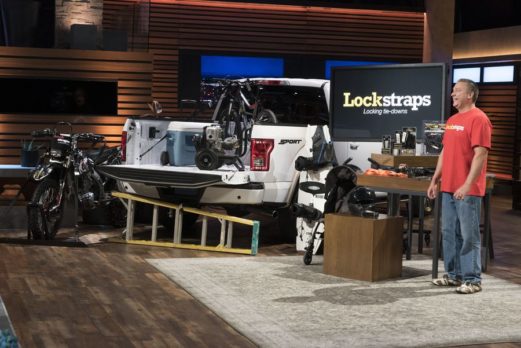 Jeff Cranny brings LockStraps, his innovative locking tie-down straps, into the Tank for episode 1007. Simply put, LockStraps are locking tie-down straps. Tie-down straps are used by many people to keep a load from shifting or to secure power equipment, motorcycles and other items in a truck bed or on a trailer. LockStraps let you lock them, too.
Back in 2009, Jeff returned to his truck to find his motorcycle was stolen. It was tied down with "standard" straps. The thieves simply unlatched them and took off with Jeff's stuff. He was mad about losing his bike, but it gave him an idea. He began designing a tie-down strap with a steel cable (inside a nylon outer sleeve) with locking carabiner clips. The product worked as both a tie-down and a lock.
There are several lengths to choose from and they cost anywhere from $24.95 to $44.95. There have been 4 or 5 different versions of the LockStrap since he first started selling them in 2010. The key to the system is the steel cable and the combination locking carabiner clip. Besides motorcycles, the straps can be used to lock just about anything from helmets to tools.
Cranny has his product for sale in a lot of places: Home Depot, Sears, Grainger, Cabella's and dozens more. He likely needs a Shark to help out with cash flow for increasing orders. Will a Shark lock down a deal for this product?
LockStraps Company Information
Video

Posts About LockStraps on Shark Tank Blog
LockStraps Shark Tank Recap
Jeff enters the Shark Tank seeking $200,000 for 20% of his business. He tells the story of how he came to invent his product and gives his pitch. He invites A-Rod on stage to cut a chain, a traditional cable and a Lock Strap with bolt cutters. A-Rod cuts though everything except the Lock Strap. Jeff then hands samples out. He has a design patent  and a trademark on the product.
He did $135,000 in the first year in business. In the second year, he did $175,000 and Home Depot wanted to carry the product. He had a $1.5 million purchase order from Home Depot and his Chinese factory made defective products; they all came back. When the Sharks ask how many he sold, Jeff appears evasive. He can't answer how many he's sold in Home Depot.
Mark goes out first. Mr. Wonderful calls it a horrible presentation; he's out. Barbara says it's not an appetizing story; she's out. A-Rod thinks Jeff doesn't have a clear path; he's out. Lori thinks Jeff isn't all in on his product; she's out.
LockStraps Shark Tank Update
The Shark Tank Blog constantly provides updates and follow-ups about entrepreneurs who have appeared on the Shark Tank TV show. Since airing, he got into 1900 Home Depot Stores and did a private label deal with Schwinn. As of August, 2022, he's doing $4 million in annual sales.