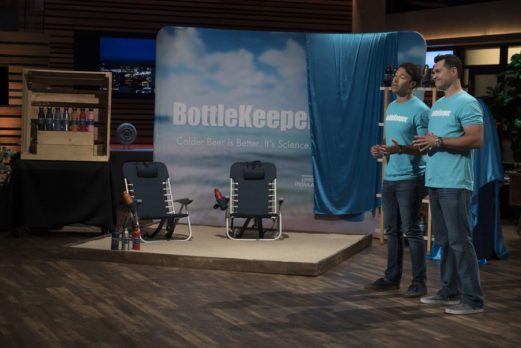 Cousins and fellow warm beer haters Adam Callinan and Matt Campbell hope the Sharks like BottleKeeper, their solution for keeping bottled beer cold, in Shark Tank episode 1007. Simply put, the Bottle Keeper is an insulated beer bottle holder. You can also call it a single serving cooler. The guys were hanging around on a warm summer day sipping beer out of plastic cups. The beer was getting warm and they didn't like it.
As they say on their website, Matt had an epiphany: "what if we could leave the beer in the bottle and put the bottle in something that would keep it cold, like one of those stainless steel water bottles?" The rest is history. In addition to keeping a bottle of beer ice cold, the protective sleeve prevents broken bottles, too. Places like the beach or pool aren't good places for broken glass. If you drop your beer in the bottle keeper, the bottle stays intact.
The guys started their business back in 2013 with a successful Fundable Campaign that raised $13,928. The "guts" of the BottleKeeper is a quarter inch thick neoprene sleeve that lines the walls of a stainless steel container. It keeps beer much colder than a standard "koozie."
Last September they released Bottle Keeper 2.0 that includes a bottle opener in the cap, a tether and a powder-coated exterior. They claim over $10 million in sales and have plans for new products. A Standard or Stubby sized BottleKeeper costs $35 and the larger Bomber is $40. They also offer custom engraving, bulk orders for corporate gifts, replacement parts and apparel. They likely want a Shark's help to take them to the next level.
BottleKeeper Company Information
Video

Posts about BottleKeeper on Shark Tank Blog
BottleKeeper Shark Tank Recap
Adam and Matt enter the Shark Tank seeking $1 million for 5% of their business. They give their pitch and tell their story, then they ask A-Rod to throw a ball at a stack of BottleKeepers with actual bottles in them. The bottles don't break! They hand out samples and Mr. Wonderful jumps on them about their $20 million valuation.
The guys have the sales numbers to back up the valuation: $1 million in sales in the last 10 days, $2 million in the last 30 days and over $20 million in the last three years. They need the money to buy inventory for retailers who want to carry their product. They claim they have 3000 stores on a waiting list. In the last year, they grossed $9 million but only netted $400,000 because they spent money on lawyers (to shut down knock-offs infringing on their patents) and marketing.
Kevin starts the bidding. He offers $250,000 for 10% plus a $750,000 loan at 11% interest. A-Rod proposes partnering with Kevin on this deal: $500,000 for 20% and a $500,000 loan at 11% interest. While this is going on, Mark and Lori are whispering to each other. Lori then offers $1 million for 3% plus a $3 per unit royalty until she recoups $2 million. The guys counter with $1 million for 3% plus a $1.50 per unit royalty until $1.5 million is recouped. Mark chimes in and says he'll do that deal if they go to 5%. After some back and forth negotiating, Mark and Lori team up to offer $1 million for 5% plus a $1.50 per unit royalty until $2 million is recouped. They agree to the deal.
BottleKeeper Shark Tank Update
The Shark Tank Blog constantly provides updates and follow-ups about entrepreneurs who have appeared on the Shark Tank TV show. The deal with Lori and Mark did not close. In the days following the original air date, sales spiked 300% and they sold over $1 million in products. They did get into retail, they're in Ace, Meijer, Sur La Tab, The Paper Store and dozens of independent retailers. The company also released Cankeeper and Pintkeeper which is essentially a tumbler. They also introduced the ChillKeeper, soft coolers in either a 16 or 32 can size. As of May, 2022, the company is doing quite nicely with $13 million in annual revenue.