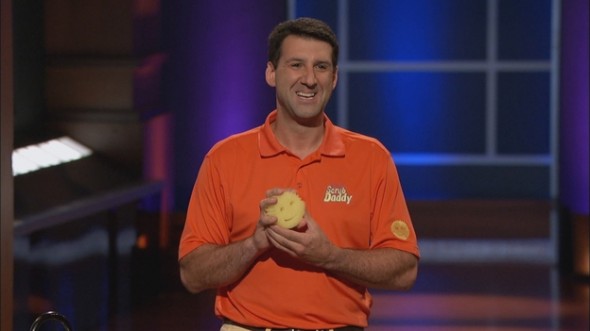 ScrubDaddy inventor Aaron Krause pitches the Sharks on his patented and proprietary scrubbing pad in episode 407. Scrub Daddy changes firmness depending on the water temperature and tackles all sorts of cleaning tasks around the home, from cleaning dishes to patio furniture. Aaron has a successful automotive aftermarket business and he originally produced Scrub Daddy as a pad for cleaning auto mechanic's hands. One day, while cleaning up around his home, he found out Scrub Daddy worked well cleaning up in the kitchen. Aaron re purposed Scrub Daddy as a household product and got on QVC!
ScrubDaddy Shark Tank Recap
Aaron came into the Shark Tank looking for $100k for a 10% share in the business. He's had over $100K in sales in the four months prior to taping and is poised to have his product in 3,000 retail outlets. After a very "infomercial-like" pitch, Aaron faced the Sharks in what soon became a feeding frenzy!
Robert doesn't think the product will sell in a retail environment; he's out. Mark doesn't want to get involved with a product that relies so heavily on QVC sales; he's out too. Kevin offers $100k for 50%, with some contingencies. Daymond offers $50k for 15% if he gets Lori to partner with him for the other $50K.  Lori loves the product and says she doesn't need Daymond; she offers $100k for 30%. Kevin counters with $100K with a 50 cent per unit royalty until he gets his money back, with a 10 cent royalty going forward. Daymond then offers $125K for 25%.
Lori bumps her offer up to $150K for 25% and then $200K for 25% after a bidding war with Daymond. Daymond admits to bidding up on Scrub Daddy to get Lori to up her bid; he's out. Kevin drops his royalty to 7.5 cents, but Aaron wants to work with Lori. He asks if she'll drop to 20% and she agrees.
ScrubDaddy Shark Tank Update
Since airing, ScrubDaddy was featured on QVC several times, selling out each time. Now in thousands of retail outlets, Aaron got what he was looking for from the Shark Tank: help with retail distribution. He tells me he and Lori have become friends and Aaron and his wife socialize with Lori and her husband. Aaron sent some samples to the Shark Tank Blog and the reviews are in:  it works as advertised! The first one I opened lasted from October through February before it needed replacing. It tackles just about any cleaning task in my kitchen. I gave one to my mother and she loved it too!
Aaron and Lori appear in an update segment in episode 423.
Scrub Daddy was dubbed the most successful Shark Tank product ever with sales approaching $20 million!
Aaron and Lori appear together again in Beyond the Tank episode 201. As of January 5, 2016, sales are over $75 million!
With sales of over $150 million, Scrub Daddy gets another update in episode 907. They are officially the biggest money maker in Shark Tank history.
In February, 2020, the company appeared in The Shark Tank Greatest of All Time Special in the "greatest money makers" segment. With $268 million in sales they are now second to Bombas, which has $330 million in sales.
As of June, 2021, the company is still in business and racking up sales. It's hard to find a store that doesn't carry them. In August, 2022, the company introduced Halloween themed sponges in the shape of Frankenstein, pumpkins and ghosts. Lifetime revenue has topped $300 million at this point with no signs of slowing down.
The company gets yet another update segment in episode 1413. The company did its deal with Lori ten years ago. In the update segment, Aaron reveals that the company has 273 employees, 160 different products and is sold in over 257,000 retail locations. To date, it's done $670 million in retail sales and is one of the top 5 highest grossing companies in Shark Tank history. Before Shark Tank, Scrub Daddies were made in Germany. Now they're made in the USA at factories in Tennessee and New Jersey. The factories are powered completely by solar power and the company has so much excess power, they power homes in the surrounding neighborhood. Aaron also signed a deal with Unilever which will give Scrub Daddy global distribution.
Lori compliments Aaron's inventiveness and his environmental consciousness. The Shark Tank experience has allowed Aaron to travel the world spreading the "Scrub Daddy smile."
In October, 2023, Scrub Daddy was the third highest selling Shark Tank product with $926 million in lifetime sales.
Posts About ScrubDaddy on Shark Tank Blog
Scrub Daddy High Tech Scrubber Cleans Up
Aaron Krause Scrub Daddy Pre-Show Interview
ScrubDaddy Information
Demo Video: