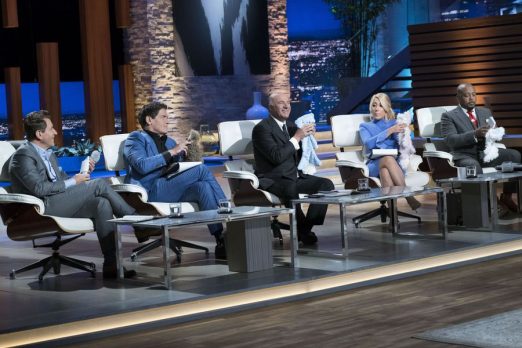 Episode 907 features the "old school Sharks" as they hear pitches from four new businesses seeking to start, grow, or save their businesses. Kelly Oriard and Callie Christensen, two educators, moms and friends since high school, pitch Slumberkins – plush toys that promote sensory development and positive attachment in babies. Steven Markley and James Arcaro, two wildland firefighters and Florida fishermen turned entrepreneurs want the Sharks to taste their Reely Hooked Fish Company fish spread and invest. Alexander Simone hopes the Sharks think his invention, ProntoBev – a device that chills wine in 30 seconds – is a cool idea. Joshua Esnard shows the Sharks the Cut Buddy, a shaping template that helps you when cutting your own hair.
Which business gets a deal?
The Sharks
---
Daymond John
Kevin O'Leary
Lori Grenier invested $200K for 20% of ScrubDaddy back in season four. The product is the most successful Shark Tank Product to date with sales of $150 million. Tonight we find out what's next for this business.
There are 28 Shark Tank Episodes for Season 9. This season features more appearances by "guest Sharks," including billionaire Sir Richard Branson. The 200th episode also airs this season. Casting is currently closed, but it never hurts to get a head start on season ten! If you would like to appear on the show, check out our Auditions and Casting information.
Episode 907 – The Shark Investors and Entrepreneurs
The Shark Tank Episode 907 entrepreneurs will make their best pitch to the panel of five Shark investors who will use their own money if they choose to invest. The Shark Investors negotiate on the spot without any previous information, which differs from typical negotiations between venture capital investors and entrepreneurial start-ups.
Companies pitching the Shark Investors must go through a rigorous due diligence process before an on-air deal is completed. Shark Tank Blog follow ups help you keep track of the companies that end up successful and the ones that don't complete their deal.
Thank you for reading SharkTankBlog, the number one site for Entrepreneurs, Investors and Fans. Our content updates multiple times day, giving you the latest information on Episode 907, Season 9, and all other seasons and episodes.
Episode 907 Press Release
Shark Tank: Episode 907 (11/12)
A NEW EPISODE OF ABC'S 'SHARK TANK'
DEBUTS ON SUNDAY, NOVEMBER 12
"Episode 907" – Two firefighters and entrepreneurs from Pembroke Pines, Florida, introduce their healthy, smoked fish dip; a hair- and beard-cutting template from an entrepreneur in Chapel Hill, North Carolina; two entrepreneurs from Vancouver, Washington, who created a unique hybrid of a stuffed animal and blanket for families on the go; and a device that chills an entire bottle of wine in just 30 seconds from an entrepreneur in San Francisco, California, on "Shark Tank," SUNDAY, NOV. 12 (10:00-11:00 p.m. EST), on The ABC Television Network.
In his follow-up, entrepreneur Aaron Krause made a deal with Lori Greiner in season four for his one-of-a-kind dishwashing sponge tool, ScrubDaddy. With a full line of products and over $150 million in retail sales, Krause has a new product to pitch Lori.
The Sharks in this episode are Mark Cuban, Daymond John, Kevin O'Leary, Lori Greiner and Robert Herjavic.