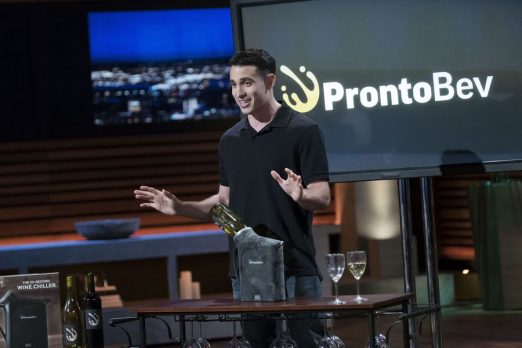 Alexander Simone hopes the Sharks drink up and invest in ProntoBev, his "instant" wine chiller, in episode 907. ProntoBev is the flagship product of his company called Pronto Concepts. It's a wine aerator attached to a chilling device that chills wine (or any other beverage) in thirty seconds.
He got the idea while looking to share some wine with a young lady at his frat house back in 2013. He took a warm bottle of Chardonnay and poured it through a spaghetti strainer filled with ice and salt. The wine was instantly cold, but it tasted watered down and salty. In 2015, he resurrected the idea and built a prototype that proved he could chill wine in 30 seconds. He presented his first prototype as an Entrepreneurial Marketing course project.
After many prototypes, he added an aerator, the ProntoAer, to his arsenal. The ProntoBev took 13 different prototype attempts before settling on a finished product. Once he had a working prototype, Alexander quit his job and started his business. He got his first round of products built when he raised $61,317 in a successful IndieGoGo campaign. He likely needs more funds for future production.
Will a Shark think this is a cool investment?
ProntoBev Company Information
Video

Posts About ProntoBev on Shark Tank Blog
Pronto Bev Instant Wine Chiller
ProntoBev Shark Tank Recap
Alexander enters seeking $100,000 investment for 5% of his business. He tells his story and gives his pitch. Next, he invites the Sharks onstage for a taste. Kevin says the wine is at the right temperature. He hands each Shark a glass of wine and lets them know he's pre-revenue. The secret to the cooling is patent pending "pronto gel" beneath the stainless steel. Each unit costs $22 to make. He sold them for $89 on IndieGoGo, but he wants to sell them for $129 retail.
Daymond thinks the valuation is crazy and is the first Shark to go out. Mark agrees with Daymond and he goes out. Robert follows, once again citing the valuation. Kevin offers $100,000 for 50%. Lori thinks it's clever, but she still goes out. Alexander tries to negotiate, but Kevin holds firm. Mark asks what his next invention is and Alexander says it's a martini shaker. He says he has interested parties and could easily raise another $100,000. Mark comes back in and offers $100,000 for 25% contingent on Alexander raising another $100,000. Alexander says yes to this deal.
ProntoBev Shark Tank Update
The Shark Tank Blog constantly provides updates and follow-ups about entrepreneurs who have appeared on the Shark Tank TV show. The deal with Mark never closed and Alexander hasn't made a single product for IndieGoGo backers as of June,  2021. The company social media is dark and the website still has a "preorder" button. IndieGoGo backers are demanding their money back and a former fraternity brother of Alexander's who "bought" one calls the whole deal a scam. As of April, 2023, there has not been any activity on fulfilling the IndieGoGo "orders" and there is no way to buy one on the company website. While Simone still lists the company as open on his LinkedIn page, he is the Product Director for makeXnow Inc.