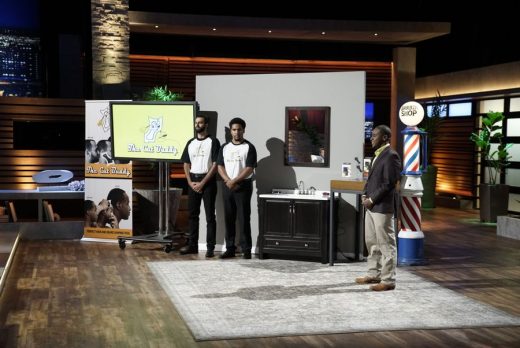 Joshua Esnard hopes to cut the Sharks in on Cut Buddy, his template that lets you get clean lines while cutting your own hair or beard, in episode 907. Esnard was always an inventive kid and at age 13, he started cutting his own hair. He didn't like the job his dad was doing. He grabbed some old plastic folders and made a template. When he used it, he looked better than his friends who went to the barber.
At age 28, Joshua became "follically challenged" and didn't need to cut his hair as much. Up to that point, he was still using his home-made template. In 2016, he started the business and began making the Cut Buddy available for sale on Amazon. When he paid a famous Youtuber to review the product, the video went viral and the Cut Buddy sold over 4000 units in one day. In his first year in business, Esnard sold over 50,000 units!
Each Cut Buddy costs $14.95, plus shipping. They work with all hair clippers, hair fiber, detailers, outliners, disposable razors and straight razors. Each product also comes with a barber pencil to trace your hair line/design before you cut. With such rapid growth, Esnard likely needs a Shark's help with manufacturing and distribution.
Will a Shark think this business is a cut above the rest?
Company Information
Video

Posts About The Cut Buddy on Shark Tank Blog
Cut Buddy Home Hair Cut Helper
The Cut Buddy Shark Tank Recap
Joshua enters seeking $300,000 for 10% of his business. He explains and shows the product to the Sharks. As he hands out samples, Lori compliments him on his packaging. He reveals that he invented the product at age thirteen and started the business when his girlfriend accused him of never finishing anything.
He tells them about the viral video and how Cut Buddy sells at Sally's and online at Wal-Mart and Target. Daymond wants to know why Joshua needs a Shark. His answer is "mentorship." Kevin then offers $300,000 for a $1.50 per unit royalty until he gets back $1 million, plus 5% of the business. After Kevin offers, Mark goes out and Robert soon follows.
Daymond then offers $300,000 for 20%. Joshua counters with 12.5% but Daymond said he'd normally want 33%. With two good offers on the table, Lori goes out. After thinking things over, Joshua accepts Daymond's offer.
The Cut Buddy Shark Tank Update
The Shark Tank Blog constantly provides updates and follow-ups about entrepreneurs who have appeared on the Shark Tank TV show. Since appearing, sales grew to well over 100,000 units. Andis, a large hair care company, licensed the product. It's available in many stores now and on Amazon. Joshua hinted they'll expand their retail presence, too.
In 2018, they partnered with Puff Cuff, a hair clamp used in trimming thick, curly hair. He also started another business, Truffletopia, which sources the freshest and top quality truffles from Europe.
Cut Buddy gets an update segment in episode 1014. In the update, we find he's sold 300,000 units and is now available in Wal Mart and other retailers. They also released a "new and improved" version of the product. In 2020, the company did a licensing deal with Andis Clipper. Cut Buddies are packaged with their clippers in thousands of retail locations across the country. Sales spiked to over a million units as hair salons and barber shops were shuttered during the Covid-19 pandemic.
In January, 2022, Esnard announced he is opening the company to "public investment." In April, 2022, the company raised $156,400 on Seed At The Table,  an equity crowdfunding site, from 149 backers. At this time, they now sell Cut Buddy branded trimmers and shavers by Andis. By July, 2022, the product was in Wal Mart, Target, Meijer's, T.J. Maxx, Burlington, Zulily, Touch of Modern and hundreds of other retail locations. By November, 2022, annual revenue is approaching $3 million.