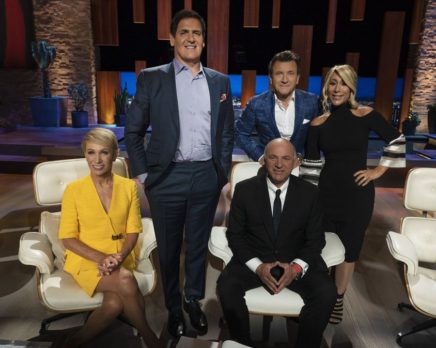 Five "regular Sharks" grace the Tank for episode 1014. Four new businesses will vie for an investment from one of the wealthy Shark panelists.
Active duty Air Force Pilot Tommy Prestella wants the Sharks to swim in his Pick Up Pools, a bed liner that turns a pick up truck bed into a pool. Former America's Top Model winner Lisa D'Amato dares the Sharks to invest in Dare U Go, her new twist on the bib with food storage in it. Janet Wu and Erin Wold roll into the Tank with SilkRoll, their digital online exchange for used women's clothing. Brothers Caleb and Bryan Lewis hope the Sharks don't waffle when they present Press Waffle, their successful waffle-themed restaurants. Which business nets a Shark tonight?
Tonight's update segment features Cut Buddy. Daymond invested $300,000 for 20% of this home hair care tool back in season nine. Sales doubled after appearing on the show and we should expect a "big announcement" during the update segment.
Which business gets a deal tonight?
The Sharks
---
Barbara Corcoran
Robert Herjavec
There are 28 Shark Tank Episodes for Season 10. This season features more appearances by "guest Sharks," including billionaire Jamie Siminoff. The 200th episode also airs this season. Casting is currently closed, but it never hurts to get a head start on season ten! If you would like to appear on the show, check out our Auditions and Casting information.
Episode 1014 – The Shark Investors and Entrepreneurs
The Shark Tank Episode 1014 entrepreneurs will make their best pitch to the panel of five Shark investors who will use their own money if they choose to invest. The Shark Investors negotiate on the spot without any previous information, which differs from typical negotiations between venture capital investors and entrepreneurial start-ups.
Companies pitching the Shark Investors must go through a rigorous due diligence process before an on-air deal is completed. Shark Tank Blog follow ups help you keep track of the companies that end up successful and the ones that don't complete their deal.
Thank you for reading SharkTankBlog, the number one site for Entrepreneurs, Investors and Fans. Our content updates multiple times day, giving you the latest information on Episode 1014, Season 10, and all other seasons and episodes.
Episode 1014 Press Release
Shark Tank: Episode 1014 (3/24)
AN ALL-NEW EPISODE OF ABC'S 'SHARK TANK' DEBUTS SUNDAY, MARCH 24
"1014" – First into the Tank are brothers from Richardson, Texas, who introduce their decadent breakfast treat, authentic to a European staple; and entrepreneurs from San Francisco, California, pitch their online fashion trading platform with the aim of helping women save money while also easing the environmental impact of clothing manufacturing. Then, an active duty soldier from Leavenworth, Kansas, presents his idea for everyone to conveniently and affordably have a swimming pool; and last into the Tank is a mom from Los Angeles, California, who pitches her clever twist on a traditional children's product that is designed to help mom's on the go, on "Shark Tank," SUNDAY, MARCH 24 (10:01-11:00 p.m. EDT), on The ABC Television Network, streaming and on demand.
In a "Shark Tank" update, Joshua Esnard from Chapel Hill, North Carolina, updates his investor, Daymond John, on Cut Buddy, a grooming and shaping tool for your hairline or beard.
The Sharks in this episode are Mark Cuban, Kevin O'Leary, Lori Greiner, Robert Herjavec and Barbara Corcoran.