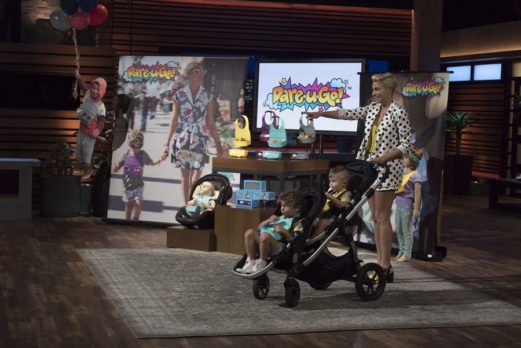 Lisa D'Amato hopes a Sharks dares to invest in Dare U Go, her bib that's also a food container and serving vessel all in one, on Shark Tank episode 1014. D'Amato was on the show America's Top Model in its fifth season and won the contest in the season 17 "All Stars" show. Now, as an on the go mother of two toddlers, she wants to make meals on the go easier for parents and kids.
D'Amato got her business off the ground with a successful Kickstarter campaign back in 2017 that raised $37,511. She started shipping product in early 2018. The Dare U Go is a new twist on the old-fashioned bib. It's made of food-grade silicon and hangs around a child's neck like a regular bib.
The hook is it has re-sealable compartments for storing food and snacks right in the bib. It's both storage and plate at the same time and, since the bib is already on the child, it's easy to tote around too. Each Dare U go bib costs $22.99 and comes in a variety of bright colors; they even come with a "spork." It's available at Wal-Mart and Amazon, plus at retailers in over a dozen countries.
D'Amato likely wants a Shark's help with exploding growth. Will a Shark dare to invest?
Dare U Go Company Information
Video

Posts about Dare U Go on Shark Tank Blog
Dare U Go Shark Tank Recap
Lisa enters seeking $350,000 for 10% of her business. As she explains the product, she reveals she's done over $100,000 in three months prior to appearing in the Tank. It costs only $2.68 to make and sells for $22.99. The Sharks like those numbers. She also claims she has 3 companies in a bidding war for distribution. After some back and forth and talk about how childhood anorexia affected her life, Lisa gets into the negotiations phase.
When Lisa tells Robert the world-wide bib market is $15 billion, Mark goes off. He says if she's a fan of the show, she should know to NEVER use the world-wide market style pitch. He's so pissed, he goes out. Kevin wants the product for his "something wonderful" platform. He offers $350,000 for 15% but $250,000 is a loan.
Lori doesn't think Lisa has what it takes to get to the next level and she goes out. Kevin announces he's raising his equity ask every time a Shark goes out and changes his offer to $350,000 for 20% with the same loan/equity ratio. Barbara says she thinks Lisa needs a partner who can bring some control to the business and offers $350,000 for 50%. Kevin ups his offer to 25%. When Robert goes out next, Kevin ups his ante to 30%. Barbara then shifts her offer to $350,000 for 35% with $150,000 in cash and a $200,000 loan. Lisa accepts!
Dare U Go Shark Tank Update
The Shark Tank Blog constantly provides updates and follow-ups about entrepreneurs who have appeared on the Shark Tank TV show. As of the first rebroadcast in June, 2019, there is no evidence the deal with Barbara closed. DareUGo is now widely available in retail stores and they've re-vamped their Amazon Store. Ultimately, the deal with Barbara did not close. Lisa did a deal with one of the three distributors she mentioned instead of Barbara.
As of September, 2020, the product is in 20 countries. Lisa also posted this on her Instagram page:
50% of sales from dareugo.com will go to racial equality charitable causes because we care about the future of this nation and all of the people whom live in it."
As of August, 2023, she's still in business and doing well. Her reported net worth is $46 million.