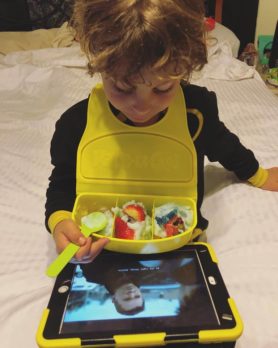 Dare-U-Go creator Lisa D'Amato made her claim to fame on America's Top Model as a sassy, outspoken woman.  She was so good, she even won an All Stars competition. None of that prepared her for motherhood. She didn't count on the minor mayhem or messes associated with parenting two toddlers, especially when it was time to go somewhere. Lugging all the gear and food for a family outing is a pain in the butt and when kids eat, especially when on the go, things get messy.
That's where Dare-U-Go comes in. Dare U Go is a bib that has food storage containers attached to it. Kids eat right out og the containers, which easily re-seal, while keeping clean because the bib is part of the container and the container is part of the bib. This keeps them (relatively) clean while allowing them easy access to snacks and meals.
Cleaning the Dare-U-Go is easy too. It's all one piece, food grade silicon that's both microwave and dishwasher safe. The food storage compartment has dividers, creating three mini compartments. When the kids isn't using it, it folds into an easily stored container. Dare U Go is available on Amazon for just $22.99. It even comes with a spork.
Lisa got the business off the ground with a Kickstarter campaign that raised a little over $37,000. She's been shipping the product since early 2018 and has respectable distribution. She likely wants a Shark's help with manufacturing and with blowing the product up.
My Take on Dare-U-Go
I think this is a clever idea. Had it been around when my kids were little, I'd want one. It's much better than lugging around separate bags or containers of snacks. Since the bib is secured around the kid's neck, there's less chance of spilling.
The price is right, too. Not too many parents or gift givers would balk at a $22.99 price point. If you're the type to put snacks for your kids in Zip Loc bags, the Dare-U-Go costs the same as three or four boxes. That makes it a good product for kids, parents and the environment. I am in.
Will Sharks Dare to Invest?
Lisa is sure to impress. You don't win America's Top Model All Stars without having some savvy presentation skills. The pitch will be polished and professional. Sales will determine interest, but I think one particular Shark will bite on this one: Lori.
This product is a Lori hero. It's not too expensive, it has mass appeal and it's easily demonstrated. Lori also invested in several other silicon-based products like Beebo, Safe Grabs, GrypMat and others. She probably has a good relationship with a manufacturer and can scale quickly. I also thing Dare U Go would sell well on QVC. I think Lori dares to invest in this business.