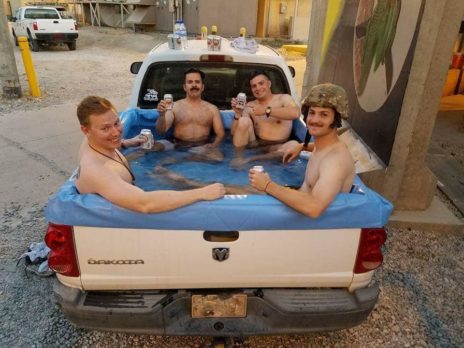 Tommy Prestella, an active duty air force pilot, invented Pickup Pools because his daughter was hot and wanted to go swimming. It was a hot Arkansas summer day at Little Rock Air Force Base and the Prestella's didn't have a pool, so Tommy made one. He took tarp and a bunch of bungee cords and lined the bed of his pickup truck, then filled it with water.
It worked – for a little while. The tarp kept shifting and water would leak out. He thought "there has to be a better way." After searching online and finding nothing, he decided to invent Pick-Up Pools, the world's first pickup truck bed pool liner. Images of people sitting in the bed of a pickup truck filled with water have been circulating online for years, now people can finally do it right.
The sizing chart on the website lets yo pick the right size for short bed, standard or long bed pickups. At $200, it's cheaper than a real pool. The advantage is, you can take it with you. They can be found on Amazon.
The pools are 100% made in the USA. Tommy makes Pickup Pools with vinyl from Virginia and has them assembled in California. He ships all over the world, including military bases. His wife runs the business while he's deployed, so it's a true family affair. The business started slow with just 18 pool liners ordered, which Tommy sold at shows and online.
Since starting in 2015, the business has grown. Tommy likely wants a deal to help expand, perhaps even into licensing. Will a Shark want to swim in a Pickup Pool?
My Take on Pickup Pools
I have a pool and I don't have a pickup truck, so I'm not a customer. I actually sat in a makeshift pickup truck pool a friend had put together. It was welcome on a hot day and kind of fun. If I had a truck, I don't know if I'd buy one though.
Dura-Liner, a big maker of auto accessories (including bed liners) does not recommend this type of set-up. The reason is water weighs a lot. When you fill the pool and add two or three adults, it can exceed the truck's weight capacity and ruin the suspension – that will cost you more than the Pickup Pool! Tommy's answer to that is to never overfill and be very aware of your truck's weight limits. It's a fun product and a novelty, but for this one reason alone, I'm out.
Will Sharks Pick Up on this Idea?
I think the Sharks will be entertained, but I ultimately think there's no investment. This is a classic "product not a company." The only real way to do a deal like this is through licensing, but auto aftermarket companies will be afraid of the liability and potential safety issues.
Ultimately, the Sharks will realize the concerns expressed by DuraLiner and back out.