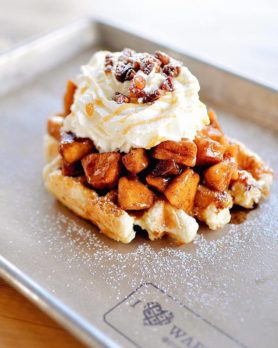 Press Waffles founders Caleb and Bryan Lewis loved waffles as kids. Older brother Bryan rediscovered his love for waffles while summering in Belgium back in 2013 with his wife. They ate Belgian waffles every day and fell in love with them. Belgian waffles differ from the waffles most Americans are familiar with because they are dough based, not batter based. Dough makes for a richer, more satisfying waffle.
When Bryan came back to the states after that summer, he wanted Belgian waffles but couldn't find them anywhere. For over a year, he experimented with various recipes until he was able to replicate the waffles he grew to love in Belgium. Not long after that, little brother Caleb graduated from college and the brother hatched plans for a Belgian waffle food truck.
With some of their own funds and $15,150 from Kickstarter, they opened the first Press Waffles food truck in the Dallas area in 2016. With items like the Happy Camper –  a waffles topped with Smores, cookie butter, chocolate syrup  and toasted marshmallows, the truck was a hit. They added other styles like chicken and waffles with bacon and maple syrup and constantly changed their menu. Before long, they had three brick and mortar stores and started soliciting for franchisees.
When they pitch Press Waffles in episode 1014, the Sharks will probably love the samples, but will they love the business?
My Take on Press Waffles
I have a waffle iron and I love waffles. I've made dough based, Belgian waffles before and they're very good, but they're more of a chore than batter based waffles, so we make batter based most of the time. When we first moved south, I made chicken and waffles for supper so we could feel more "southern!"
As a restaurant concept, I find Press Waffles intriguing. Waffles aren't too expensive to make, so their food cost margins must be pretty good. This is the type of place I'd try on a whim. Some of their menu items sound absolutely decadent. It's obvious they have some success and people like their  product. I'm in.
Do Sharks Like Waffles?
Restaurants are dicey in the Shark Tank and there were many specialty concepts introduced in season 10. Barbara has had great success with Tom and Chee (Mark partnered here too)and Cousins Lobster. Other Sharks invested in restaurant concepts with varying degrees of success. While all the Sharks may like the waffles and the business, Barbara is the most logical choice.
Barbara has a model for franchising success. The aforementioned businesses are the most successful restaurants in Shark Tank history, all Press Waffles has to do is plug into the "Barbara model." Barbara has a 15% stake in both these other businesses. Each of them went from small, successful operations to hugely successful franchise operations in a relatively short time. Be on the lookout for Barbara to bid on Press Waffles.