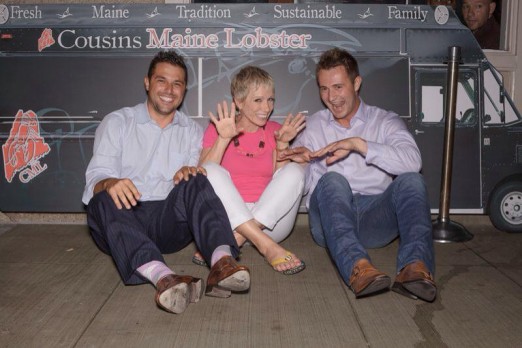 Cousins Maine Lobster entrepreneurs Jim Tselikis and Sabin Lomac are real life cousins and native Mainers. They grew up eating lobster regularly and missed it when they relocated to Los Angeles. This prompted the cousins to start the Cousins Maine Lobster food truck to capitalize on LA's booming street food scene. The pair had tremendous initial success and recouped their investment in the truck in just a few months. About a month prior to their air date, they opened a brick and mortar location inside the Live Mixx Lounge in downtown Pasadena. They had dreams of further expansion when they entered the Shark Tank in episode 406.
Cousins Maine Lobster in the Shark Tank
Jim and Sabin were seeking $55k for a 5% share in their popular mobile eatery. Like all good food entrepreneurs, they fed the Sharks some of their lobster rolls.  They wanted help from the Sharks to get another truck or two on the road. They were only open a few months prior to taping, but they did over $150K in sales! Since the guys are from Maine, they made a big deal about the proprietary relationships they have with lobster wholesalers.
Mark couldn't get an answer about the economics of Cousins Maine Lobster, so he's out. Kevin thinks the business is over valued at $1.1 million, so he's out too(he also confesses to having a soft spot for crustaceans). Daymond revealed he used to work at Red Lobster, so he was interested, but he didn't like the valuation at 5%, nor at the 8% the two cousins countered with; he's out. Robert offers $55K for 25% and Barbara goes in at $55K for 17%. Robert then offers $100K for 25%. When Jim and Sabin start asking about marketing strategies, Robert feels like he's being doubted and goes out. The Cousins Maine Lobster guys counter Barbara with $55K for 12%. They eventually settle on $55K for 15% and Barbara becomes an honorary Mainer!
Cousins Maine Lobster Shark Tank Update
Cousins Maine Lobster is featured in a follow-up segment in episode 413, just a few short months after their initial appearance. It seems whenever Barbara Corcoran gets involved with a food business, it's a success story! The truck was even voted Best LA Food Truck for 2012. Jim and Sabin will undoubtedly reveal their plans to become the number one seafood purveyors of Maine Lobster on the West Coast. They also want to franchise Cousins Maine Lobster to expand in other western cities. The cousins have lobster shipped daily from Biddeford, Maine (a LOVELY area of the Maine coast) to assure the freshest possible product. Cousins Lobster Truck is successful largely due to their Maine connections; there's an old saying: "Lobster tastes better in Maine." It's the truth!
The cousins are featured in a second update in episode 525 in season 5. They are doing MILLIONS in sales and opening their first "brick and mortar" shop.
In season seven's episode 713, the Cousins Maine Lobster saga continues with another update. The company is now franchising and invited their 11 franchisees to Portland for a visit and to see where the lobster comes from. Each franchisee invests $250K-$350K for a truck and pays Cousins an 8% royalty fee. They also buy all their lobster from Cousins. With all the franchisees, the Cousins empire consists of their brick and mortar store, plus 15 trucks. Sales are at $15 million per year and growing!
The Cousins story continues in Beyond the Tank episode 107.
In season 10 (March, 2019), Cousins gets another update segment. They've opened 22 trucks nationwide and have 8 brick and mortar restaurants. They now offer a comprehensive franchise program which helped them grow. In the update in Episode 1015, we'll hear more about their next steps. The update highlighted their franchise growth and the fact that they now ship lobster anywhere in the USA.
In April, 2021, the guys got their own Food Network show called Food Truck Rehab. Think "Restaurant Rescue" but with food trucks. On the show they revamp everything: the truck, the menu, social media and anything else that needs fixing. As of July, 2021, they had 36 franchises, 7 of which are restaurants and 29 of which are trucks.  In March, 2022, the company announced the opening of 3 new trucks and one new restaurant bringing the total to 42 trucks and 7 restaurants. Each truck averages $1.7 million per year in revenue.
In May, 2022, the company launched its first franchise in Asbury Park, NJ. Barbara was on hand for the grand opening celebration. The company plans to open 19 stores in 2022. In August, 2022, they closed their West Hollywood location – one of their first brick and mortar stores – due to "changes to the neighborhood during and post-pandemic." In January, 2023, the company announced 3 new truck based franchises would be opening in Maryland, Washington DC and Cleveland by the end of Q2, 2023.
In June, 2023, a new truck franchise opened in Portland, Oregon. At this time, annual revenue is nearly $39 million.
Posts about Cousins Maine Lobster on Shark Tank Blog
Company Info