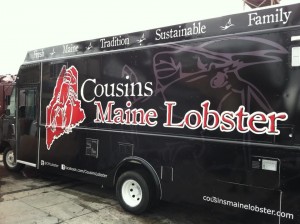 Cousins Maine Lobster came into the Shark Tank looking for $55K for 5% of their business to buy another lobster truck for their popular business. They started off being coy about proprietary supplier relationships and a $1.1 million valuation. While it is true anyone can go buy wholesale lobsters in Maine, having local connections will get you a lower price. Mainers are a tight-knit bunch, and while the boys may have overplayed that card, it is not entirely untrue.
I believe their food is awesome. Lobster is a delicacy that tastes better in Maine. The Los Angeles Food Truck scene is the hottest in the country. Small fortunes are being made by creative foodies out there. As a former food truck owner myself, I was excited to see their pitch!
Do Sharks eat lobster?
Daymond revealed he used to work at Red Lobster, so he was interested, but didn't like the valuation at 5%, nor at the 8% the two cousins countered with. Mark Cuban was feisty during the pitch and went out after the cousins ignored his questions about truck economics, Mr. Wonderful went out in the interests of the lobsters that are still alive (he's so warm and fuzzy), Barbara seemed interested early on, but hung back. Robert offered $55K for 25%, Barbara came in at $55K for 17% then Robert offered $100K for 25%, then pulled back his offer. Barbara, in heated negotiations, countered with $55K for 15% after the cousins asked for a 12% investment.
I was surprised that the guys got a deal. The food truck business is rough, even in street food crazy Los Angeles. Maybe Barbara just likes lobster so much, she simply had to get involved. I was impressed how cousins Jim Tselikis and Sabin Lomac stuck to their guns on valuation too. It's hard to do that in the Shark Tank when you are a lobster battling a shark!
Cousins Maine Lobster
Asked for $55K for 5% of their business to by a second food truck
Accepted $55K for 15%
Investor: Barbara Corcoran