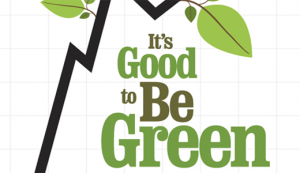 Green business used to be just another buzzword, but it's rapidly becoming a worldwide model for a way of doing business. Call it sustainable, organic, environmentally responsible, or anything else you like, green business is here to stay, and the Shark Tank seems to be following the trend in season four.
Green business can be defined as "A business functioning in a capacity where no negative impact is made on the local or global environment, the community, or the economy." It's a broad definition to be sure, but even large corporations are beginning to embrace and enact green business practices.  As resources dwindle, consumers become more educated, and "green infrastructure" gets put into place, businesses who are early adopters and pioneers of green business best practices will have a significant economic advantage over those that don't.
Benefits and costs
According to The Business Case for the Green Economy, a study  published by UNEP (the United Nations Environmental Program), green business has many benefits: "more resilient supply chains, new investment opportunities, increased consumer demand for sustainable goods and services, sales growth and duration of sales, training and job creation, reduced dependency on natural resources and mitigation against the negative financial risk from environmental impact." The study goes on to say consumers want greener products too, and they are willing to pay extra for it too. 35% of American consumers said they'd pay extra for a green or sustainable product. Any company, green or otherwise, would be foolish to ignore these benefits and trends.
Green business doesn't come cheap. The UNEP study goes on to say "it is estimated that the annual financing demand required to create the Green Economy is in the $ 1-2.5 trillion range." Transitioning to a green economy, while expensive, will provide opportunities "for the private sector to provide the infrastructure, equipment, goods and services that will drive the transition. The transition to a Green Economy is not an easy path. It is characterized by step changes in resource efficiency and a shift in emphasis from shareholder value to stakeholder value. Some companies, and perhaps whole industries, will not survive the transition." The benefits of green business practices clearly outweigh the short-term costs and may in fact create new jobs and industries in the future.
Shark Tank Sharks seeing green
In season three, the Shark Tank had two green business pitches. The most obvious is Nardo's Natural, the 100% organic skin care line Barbara Corcoran invested in. The Nardo brothers also used recycled packaging and source most of their production locally. Nardo's Natural is the epitome of a green company. Lollacup is another "greenish" company from season three. While plastics can't be considered green, having their manufacturing done locally has a green component.
After tonight, in season four, we will have seen more green companies than all last season. Back in episode 403, Liz Lovely Cookies and FuzziBunz were two green business examples that foreshadowed a growing trend in the Shark Tank. Liz Lovely uses all natural, organic, GMO free ingredients in their cookies. The only thing that isn't green about Liz Lovely is the color of the cookies! FuzziBunz reusable cloth diapers are green because of what they are not. Disposable diapers pose a huge environmental problem: they take up tons of space in landfills. Using FuzziBunz keeps a significant amount of trash out of the diposal stream, thus mitigating "against the negative financial risk from environmental impact."
Green business doubles in season 4
Episode 406 sees two more entrepreneurs who are green business practitioners to one degree or another:  Cousins Lobster Truck and Eco Nuts. Cousins Lobster Truck gets all their lobster from Maine from small, family-run operations. The Maine Lobster industry is a century plus old example of sustainable aquaculture. Unlike other huge, conglomerated fishing operations that wreak havoc on the fish population and harm other sea life as a consequence of high volume fishing practices, the lobster industry is dominated by small players that don't over harvest.
Eco Nuts is a model for green business everywhere. They are the greenest of all that have appeared in the Shark Tank to date. Eco Nuts makes 100% organic soaps packaged "eco friendly" materials. They meet all the criteria for green business in the UNEP study and they walk the talk when it comes to their business. Whether one of the Sharks bites into their green philosophy and product line remains to be seen, but Eco Nuts is sure to continue to be a pioneer in green business best practices.
Season 4 has not been kind to green businesses, none have been funded prior to tonight. Sooner or later, the sharks need to take a longer view with green business opportunities that present themselves. Our overall economy is becoming greener every day. Before long, at least one of the Sharks will make the connection that green isn't just a new catch phrase for a way of doing business, it's also the color of money.