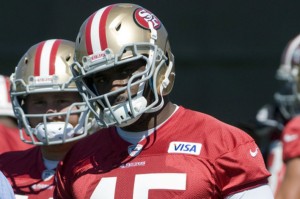 Monday Night Football will most likely always have higher ratings than the Shark Tank, but it seems ABC is playing the football angle this season. Brandon Jacobs, former New York Giants star, would have played last night on the NFL Network's Thursday Night Football for The San Francisco 49ers, had he not been on the injured list for his new team since August.
He was cleared to play, but saw no action as teammate Frank Gore racked up 131 yards rushing against the Seahawks. Jacobs got another week to rest before the Moday Night Footbal game on October 29. Surely the juxtaposition of the 49ers playing Thursday and Jacob's appearance on Shark Tank the very next night can't be a coincidence. I am sure the ABC scheduling people were very aware of the NFL schedule when placing episode 406 on the docket for tonight.
Monday Night Football Players face a different Prime Time challenge
Brandon Jacobs is the second NFL player in the past few weeks to appear in the Shark Tank. Marvin Philip, a former offensive lineman for the  Steelers, and his Lifter Hamper were very popular with viewers, even though he didn't get a deal. Philip's injury shortened career doesn't compare with two time Super Bowl Champion Brandon Jacobs, but the NFL must certainly teach these two athletes – come – pitchmen what pressure is all about. Certainly appearing on Shark Tank can't approach the glamour and intensity of playing in the Super Bowl,  Monday Night Football, or even Thursday Night Football, but it appears in season four's celebrity packed pitches, the NFL is getting its fair share of representation.
Lifter Hamper went over like a shanked field goal at midnight in the waning moments of a Monday Night Football game with the Sharks, but the public LOVED the product. As soon as Marvin Philip re-stocks, he will sell a lot of Lifter Hampers! Brandon Jacobs and PRO-NRG's fate has yet to be determined as of this writing, but it appears he is healing and may play in the Monday Night Football game at Arizona on October 29th. Business woman and PRO-NRG creator Tania Patrunol hopes Jacobs can mow down the Shark Tank like he does defensive backs!
Is Shark Tank tougher than the NFL?
More celebrities are in store this season, the producers seem to have made a concerted effort to cross promote in the Shark Tank this season. They did it with Dancing with the Stars and they are doing it with the NFL.  CBS has the Super Bowl this season, but Monday Night Football was born on ABC and is still broadcast on sister station ESPN. I wonder what Philip and Jacobs have to say about which is tougher: football or Shark Tank? I think NFL players are done pitching in the Shark Tank after tonight. It will be interesting to see  if any other major sports stars enter the Shark Tank.  NBA players may have a conflict of interest, but I bet that would be interesting!