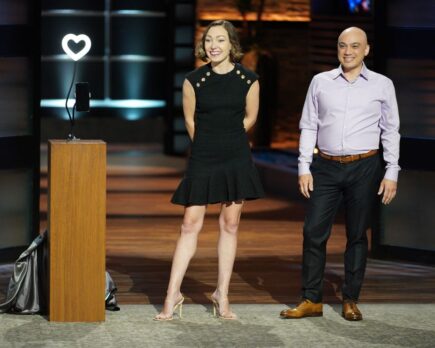 "Life partners" Chloe Loop and Lan Bui hope to shed some light on Kawaii Lighting, their whimsical lights for people who shoot videos, in Shark Tank episode 1323. Chloe is a dancer and Lan is a film maker with experience in licensed toy manufacturing. Together, they created their company which makes whimsical ring lights for people who want to make home videos for Tik Tok, Youtube or whatever.
Ring lights are not a new phenomena. Many people use them and there are many brands on the market. A ring light is a light in the shape of a circle, usually with a phone or camera mount attached to it. They give amateur videographers professional lighting without a big expense or bulky equipment. What makes Kawaii Lighting lights special is their shape. They have circular lights, but their big sellers are ring lights in the shape of stars, hearts and kitties.
Large lights cost $379 and smaller lights range from $39-$99. They also sell carrying bags for the lights and a heart shaped microphone. All sales are direct to consumer on their website. Their lights have been featured on several television shows, too. The large lights have an adjustable height to 68 inches, 10 dimmer levels and three phone mounts. Chloe and Lan likely want a Shark's help with digital marketing.
Company Information
Video

Posts about Kawaii Lighting on Shark Tank Blog
Kawaii Lighting Shark Tank Recap
Chloe and Lan enter the Shark Tank seeking $88,000 for 22% of their company. Chloe says 2020 brought us to rely on technology to stay connected, whether it's video calls, Zoom meetings or videos. Lighting is important and their products solve the problem. They reveal their products and the Sharks chuckle. The shapes of their lights reflect in people's eyes. Lan also shows off their carrying case for the lights.
The couple met nine years ago. Lan used to make licensed toys for video games and he spent a lot of time in Szen Chen China trend spotting. That's where they got the idea for this business. The heart shaped light sells for $305 and costs $100 landed. They started a year ago and have $261,000 in sales. Barbara is familiar with ring lights. They sell direct to consumer on their website.
Mark thinks they're doing a good job, but he doesn't see a direct line to scale; he's out. They don't have any patents because they wanted to see if people would buy it. Barbara offers $100,000 for 22%, plus a $10 per light royalty until she gets her money back. Kevin offers $88,000 for 22% plus a $5 per light royalty until he recoups his money back. Emma thinks it's cute but not for her; she's out. Lori feels the same way; she's out. When Barbara drops her royalty to $5 per light, Chloe and Lan accept!
Kawaii Lighting Shark Tank Update
The Shark Tank Blog constantly provides updates and follow-ups about entrepreneurs who have appeared on the Shark Tank TV show. The first rerun of this episode in August, 2022, is just three months after the original air date. As of this time, there is no evidence the deal with Barbara closed. According to Looper, the deal with Barbara did close and she has been demonstrating the product consistently on her social media. Paris Hilton, Cardi B and Elisha Cuthbert touted the lights on their social media as well. The company added a heart-shaped microphone, smaller,  versions of the original lights, and a pink light stand to their line. As of July, 2023, reliable revenue figurs are unavailable.
The Shark Tank Blog will follow-up on Kawaii Lighting & Chloe Loop and Lan Bui  as more details become available.