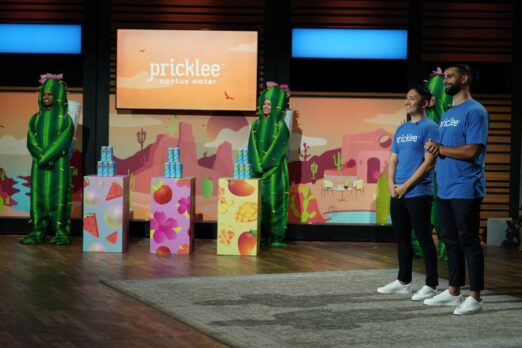 Kun Yang and Mohammed Hassoun hope the Sharks drink up and invest in Pricklee, their refreshing drink made from prickly pear cactus water, in Shark Tank episode 1323. Yang and Hassoun, along with three other partners not appearing on the show, met while attending pharmacy school. The five guys got sick of the taste of coconut water. They claim it "tastes like it's already been in somebody's mouth." Hassoun, who grew up in Lebanon, told his friends how his grandmother used to make a drink from prickly pear cacti. He made a batch for them and they loved it. Pricklee was born!
As it turns out, prickly pears are loaded with natural antioxidants – more than coconut water. At only 35 calories per can, it has 50% less sugar and calories than coconut water. People in Mexico have been consuming it for thousands of years. The guys use sustainably-sourced prickly pears in all their drinks. They're full of Vitamin C, Flavanoids, Betalains and Polyphenols and provide supreme hydration. They say it tastes like a combination of bubblegum and watermelon. In addition to the prickly pear flavor, they also sell Strawberry Hibiscus and Ginger Mango flavors.
A 12 pack of 12 ounce cans costs $34.99. If you subscribe to their "cactus club" for regular delivery, you can save 15%. The products are also available on Amazon. If you want to find them in stores, the company claims they're in the midst of a deal with 7-11 stores for the second half of 2022. They're also available in over 500 stores – predominantly in the northeast. Some Stop and Shop stores carry it as does Donelans Markets, Greens Natural foods and hundreds of mom and pop markets and cafes. They just opened an office in New York City in April, 2022 and are poised for rapid growth. A Shark can help with that.
Company Information
Video

Pricklee Shark Tank Recap
Kun and Mohammed enter the Shark Tank seeking $200,000 for 5% of their business. They start by saying coconut water is "out." Their cactus water has half the calories of coconut water. The Sharks taste the original flavor, the Sharks like them all. Each can has 35 calories and 7 grams of sugar. There are other cactus waters out there.
Kevin asks about their customer acquisition costs. Last month they sold $55,000. Each can currently costs $1 to make but they'll be able to get to 65 cents. They wholesale for $1.67 and retail for $2.99-$3.49. Mark says he drinks a lot of coconut water and he thinks Pricklee has less nutrients.
Lori likes that it comes from cactus, but she thinks it's too early, she's out. Mark thinks they should have focused more on the sustainability; he's out. Emma agrees and she goes out. Barbara said she's lost money on beverages in the past; she's out. Kevin says he hates beverage deals, but he hates these guys less. He offers $200,000 for 20% and says take it or leave it.  The guys don't want to give up so much equity. They counter with $200,000 for a line of credit and 5% of the business. Kevin says he'll go to 10%, then Barbara swoops in and says she'll do the 5% deal.
Pricklee Shark Tank Update
The Shark Tank Blog constantly provides updates and follow-ups about entrepreneurs who have appeared on the Shark Tank TV show. Sales spiked the week following the initial air date. While there is no hard evidence the deal was finalized, Hassoun told The Spectator a month after airing that the company "has Corcoran as a reliable adviser and liaison." The first rerun of this episode in August, 2022, is just three months after the original air date. As of this time, there is no evidence the deal with Barbara closed. In January, 2023, it appears Barbara did not close on this deal, but she often advises businesses she does on air deals with. The products are in over 750 regional and small supermarket chains, including All Town Fresh, Sprouts, Harmon's and more. As of July, 2023, revenue for 2023 is expected to be $1.5 million with over $4 million projected for 2024.
The Shark Tank Blog will follow-up on Pricklee & Kun Yang and Mohammed Hassoun  as more details become available.