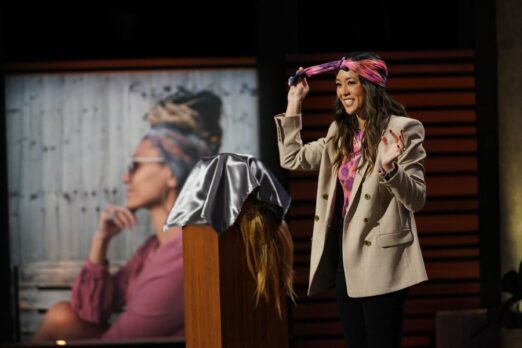 Mika Bertholdo hopes to wrap up a deal for Ooakshell, her line of tie-dyed headbands, silk-dyed scrunchies, and adjustable hair ties, in Shark Tank episode 1323. In 2018, Mika was suffering from postpartum hair loss plus she says she has a "big ass forehead" and she wanted to cover it up. Regular headbands weren't doing it for her, so she made wide, adjustable headbands. She tie-dyed them and started selling them on Etsy when people asked if she could make them some.
After a few years, she moved from Etsy to her own website and began selling there. The secret to the Ooakshell headbands are how Mika incorporates rings to adjust them. The rings act something like a belt buckle which keeps the headband firmly in place while adding a bit of "bling" to it. They also let you adjust the width of the headband.
Mika sells the headbands on her website for $32 a piece. Each one is different as she tie dyes every one. There are also plain black headbands. The rings come in matte black, gunmetal, copper, rainbow, bronze, gold and rose gold colors and cost $3 per pair. She likely wants a Shark's help with digital marketing.
Company Information
Video

Ooakshell Shark Tank Recap
Mika enters the Shark Tank seeking $150,000 for 10% of her business. She begins by addressing the Sharkettes and asks them if they've ever worn a tight headband. Then she unveils her product which she says is patent pending. She demonstrates how to adjust it and the Sharks wear theirs. She says she needs a Shark's help to "pound these out."
They cost $1.64 to make and they sell for $35. The Sharks ooh and aah over the margins. Next, she tells her story of how she is a first generation immigrant. She was planning on being a doctor, but changed her mind with a semester left. She tells how she had post partum hair loss caused her to create her product.
Her first full year of sales in 2019 were $12,000. In 2020, she had $245,000 in sales and in 2021, she was up to $396,000 year to date (approximately half way through the year). She does everything by herself – the sewing, dyeing, packaging etc. She spends zero dollars on marketing and does all her marketing herself on social media. Each piece is unique.
Mika wants a Shark to help with fulfillment. She sold over 10,000 headbands 100% direct to consumer on her website and she has an 81% customer return rate. Emma is excited and offers $150,000 for 20%. Mark says she better say yes. Mika tears up as Emma offers her help. Emma says she has a lot of experience in the clothing industry. Mika counters with 13% and Emma declines, standing firm at 20%. Mika says yes!
Ooakshell Shark Tank Update
The Shark Tank Blog constantly provides updates and follow-ups about entrepreneurs who have appeared on the Shark Tank TV show. In the immediate aftermath of the original air date, Mika sold out of product. The first rerun of this episode in August, 2022, is just three months after the original air date. As of this time, there is no evidence the deal with Emma closed.
As of November, 2022, the deal with Emma did close. Ooakshel gets an update segment in episode 1407. In the update, Mika says she was living at her mom's house with her family and running the business out of the house. After Shark Tank she moved into her own home and has a manufacturer in Dallas doing all the sewing for her. She also moved into a 1500 square foot warehouse and office and hired an assistant who does 90% of the packaging.
Since appearing (this update segment first aired in November, 2022 – just 6 months after the original air date), she has over $375,000 in sales. Mika says Emma is hands on. She had a "crash course" at Good American headquarters in finance, marketing and fashion merchandising. Mika learned more there than in her four years of college. Mika tears up when she tells about her mother saying she was proud of her; her immigrant parents wanted her to be a doctor. Shark Tank has allowed Mika to spend more time with her family and it's changed her life.
The Shark Tank Blog will follow-up on Ooakshell & Mika Bertholdo as more details become available.